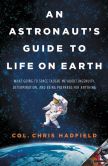 "How do you deal with your fear?" It's one of the questions I'm asked most often. When people think about space exploration, they don't just picture Neil Armstrong stepping off the ladder of the Lunar Module and onto the Moon. They also remember the smoke plume etched in the sky after the Space Shuttle Challenger exploded shortly after launch, and the startling, fiery bursts of light as Columbia disintegrated on re-entry, raining down metal and human remains.

The Challenger exploded on this day in 1986, and the Columbia disaster occurred eleven years ago this week (February 1, 2003). Though the two tragedies continue to haunt, the space program also continues to inspire and instruct. The excerpt above is from An Astronaut's Guide to Life on Earth, Chris Hadfield's recently published account of "What Going to Space Taught Me About Ingenuity, Determination, and Being Prepared for Anything." Hadfield goes on in his chapter on "The Power of Negative Thinking" to talk about how he overcame his childhood fear of heights, and how he and his fellow astronauts on the International Space Station dealt with the threat of a fire:

"In my first year as an astronaut, I think my response to hearing that alarm would have been to grab an extinguisher and start fighting for my life, but over the past 21 years that instinct has been trained out of me and another set of responses has been trained in, represented by three words: warn, gather, work. "Working the problem" is NASA-speak for descending one decision tree after another, methodically looking for a solution until you run out of oxygen."

---

Daybook is contributed by Steve King, who teaches in the English Department of Memorial University in St. John's, Newfoundland. His literary daybook began as a radio series syndicated nationally in Canada. He can be found online at todayinliterature.com.