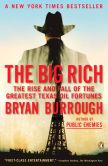 The American oil industry was gush-started on this day in 1901 when a well on Spindletop Hill in southeastern Texas suddenly erupted. A description of the fabled moment, from the first backrush of drilling mud to the shower of drilling pipe to the 150-foot fountain of crude, begins The Big Rich, Bryan Burrough's 2009 account of "The Rise and Fall of the Greatest Texas Oil Fortunes." Behind the legends surrounding Texas black gold, says Burrough, is a surprising amount of truth:
There really were poor Texas boys who discovered gushing oil wells and became overnight billionaires, patriarchs of squabbling families who owned private islands and colossal mansions and championship football teams, who slept with movie stars and jousted with presidents and tried to corner an international market or two. Back before television, before Lifestyles of the Rich and Famous, they were the original Beverly Hillbillies, counting their millions around the cement pond as they ogled themselves on the cover of Time. They helped make Texas Oil an economic and political powerhouse, a world whose contributions, large and small — from Enron and two George Bushes to the Super Bowl — shaped the America we know today.
Opposite to Burrough's story of oil as the hero in a "big, sprawling American epic" are books such as The Oil Curse (Michael L. Ross, 2012) and Private Empire (Steve Coll, 2012). The first book, subtitled "How Petroleum Wealth Shapes the Development of Nations," adheres to the controversial theory that, paradoxically, the abundance of oil (or other basic natural resources) can cause poor economic growth. Private Empire, an exposé of "ExxonMobil and American Power," begins in the same storybook fashion as The Big Rich; but here the setting is Valdez, Alaska, and the gushing oil has become a parable of misfortune:
The Valdez terminal had grown into a labyrinth of pipes, oval storage tanks, and strings of festive-looking white safety lights — an improbable man-made installation tucked on a rise amid snow-draped mountain crags and majestic glaciers. Tankers as long as several football fields passed to and from the docks one after another. The Coast Guard funneled them through a ten-mile-wide shipping lane in Prince William Sound, an inland sea teeming with salmon, halibut, whales, seals, sea lions, porpoises, and sea otters….
---
Daybook is contributed by Steve King, who teaches in the English Department of Memorial University in St. John's, Newfoundland. His literary daybook began as a radio series syndicated nationally in Canada. He can be found online at todayinliterature.com.