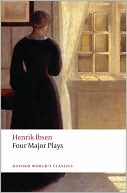 Henrik Ibsen's Ghosts premiered in London on this day in 1891. Theater historians report that the scandal over this single performance elicited over 500 printed articles and made Ibsen "a household word even among those Englishmen who never went to the theatre or opened a book." Biographer Michael Meyer describes the premiere as "controversial and epoch-making…one of the most famous of theatrical occasions."

Although published a decade earlier, and not the first volley in Ibsen's attempt to "torpedo the ark" of social propriety, Ghosts provided a lot of return ammunition to the playwright's critics, or anyone against the modern experiments in realism. Because of its references to syphilis, free love, incest, and euthanasia, the play had been damned, constrained by censors, and shunned by most major and state theaters in Europe. It was regarded as too shameful to even have around the house in print, forcing the play's champions to gather secretly for readings and impromptu performances in some cities.

The London producers dodged the censorship of the Lord Chamberlain's office by forming a subscription-only Theatre Society — Thomas Hardy and Henry James among its first members — and mounting a single performance of Ghosts at the Royalty Theatre in Soho. Shaw attended and reported the audience "awe-struck"; the press, wrote William Archer, uttered a unanimous "shriek of execration" that "has scarcely its counterpart in the history of criticism":
An open drain; a loathsome sore unbandaged; a dirty act done publicly…gross, almost putrid indecorum…. Nastiness and malodorousness laid on thickly as with a trowel…. As foul and filthy a concoction as has ever been allowed to disgrace the boards of an English theatre…. Maunderings of nook-shotten Norwegians…. If any repetition of this outrage be attempted, the authorities will doubtless wake from their lethargy.
Ibsenites in the suffrage movement found themselves especially outcast by the popular press: "The unwomanly woman, the unsexed females, the whole army of unprepossessing cranks in petticoats…educated and muck-ferreting dogs…effeminate men and male women…. Outside a silly clique, there is not the slightest interest in the Scandinavian humbug or all his works."
---
Daybook is contributed by Steve King, who teaches in the English Department of Memorial University in St. John's, Newfoundland. His literary daybook began as a radio series syndicated nationally in Canada. He can be found online at todayinliterature.com.