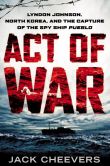 North Korea seized the USS Pueblo on this day in 1968, claiming the spy ship had violated its territorial waters. As far as the U.S. is concerned, the Pueblo is still a commissioned navy vessel and an embarrassment, while for the North Koreans it is still a symbolic Cold War victory and a major tourist attraction in Pyongyang. But the Pueblo incident remains important, says Jack Cheevers in Act of War: Lyndon Johnson, North Korea, and the Capture of the Spy Ship "Pueblo," for deeper reasons. Not only is North Korea still a threat; "unremitting surveillance by American ships, aircraft, satellites, and human agents around the globe" has pushed the spy game to a new level and raised the stakes:
Members of Congress had little, if any, advance knowledge of how much risk was involved in the Pueblo's doomed journey into the Sea of Japan. It was only later that investigators uncovered the false assumptions, negligent planning, and embarrassingly inadequate equipment that culminated in the vessel's capture and set the stage for a dangerous showdown between the United States and North Korea. As we unleash spies and covert operations against a growing list of twenty-first-century adversaries, we'd do well to remember the painful lessons of the Pueblo.
---
Daybook is contributed by Steve King, who teaches in the English Department of Memorial University in St. John's, Newfoundland. His literary daybook began as a radio series syndicated nationally in Canada. He can be found online at todayinliterature.com.