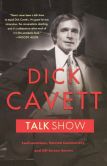 Dick Cavett was born on this day in 1936. The recollections in Cavett's Talk Show (2010), a collection of his conversational columns from The New York Times, span the decades and a wide celebrity range. They also reveal that the young Cavett, growing up in Nebraska, was already star-struck, with a moviegoer's "crush" on the Sherlock Holmes of the day, Basil Rathbone. When Rathbone came to Lincoln for a stage appearance and agreed to give an afternoon talk at the University of Nebraska, Cavett played hooky from high school to attend:
The event took place in the small "experimental" theater. I bulldozed my way backstage, and there he stood — not on the screen but feet from me. I sidled up to where he was chatting before going onstage. There was the inimitable voice (no impressionist has ever done him), and the first words I heard him speak were, "Of course I only made the one picture with Greta." I can almost feel the chill now. I thought to myself, "Toto, we're not in Nebraska anymore." (But we were.) A moment later I caught, "So Norma Shearer walked by and I said, 'Norma'…" I don't think I knew the phrase "name-dropping," a thing I did plenty of after meeting Basil. It struck me that Basil couldn't be a name-dropper; these were the people he knew and worked with. It was his world. And oh, God, how I wanted to be a part of it.
---
Daybook is contributed by Steve King, who teaches in the English Department of Memorial University in St. John's, Newfoundland. His literary daybook began as a radio series syndicated nationally in Canada. He can be found online at todayinliterature.com.