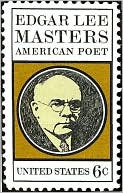 May 29: On this day in 1914 the first installment of Edgar Lee Masters's Spoon River Anthology was published. Over the next six months Masters would write the remainder of his 244 "epitaphs"; when published in book form in 1916, Spoon River became the best-selling collection of American poetry to date. Both the magazine and book publications carried the pseudonym of "Webster Ford" as protection: Masters was a successful lawyer, and he feared that the backlash from local readers who objected to his unflattering view of life in a Midwest village would ruin him. When revealed Masters was indeed targeted, but the national praise so outdid the local anger that he was eventually able to give up legal practice and become a full-time writer.
In his 1936 autobiography, Across Spoon River, Masters reflected on "the really glorious year of 1914 that was making all of America happy." Gone were the Republicans and the "puerile imperialism" of Roosevelt; here was Wilson and the New Deal. Masters was forty-three, but feeling younger:
The ideas of Ibsen, of Shaw, of the Irish Theater, of advancing science, of a re-arisen liberty were blossoming everywhere, and nowhere more than in Chicago, where vitality and youth, almost abandoned in its assertion of freedom and delight, streamed along Michigan Avenue carrying the new books under their arms, or congregated at Bohemian restaurants to talk poetry and the drama. All this came to my eyes as though I had been confined in darkness and had suddenly come into the sunlight.
Into this springtime came his mother, for a visit. They reminisced about the old days in Lewiston and Petersburg, Illinois, "bringing up characters and events that had passed from my mind," tracing their neighbors "to their final fates, to the positions in life that they were then in." On the morning his mother left, Masters went home and wrote "The Hill" and the first prose-poems of those who would speak out from their graves there:
…Where are Uncle Isaac and Aunt Emily,

And old Towny Kincaid and Sevigne Houghton,

And Major Walker who had talked

With venerable men of the revolution? —

All, all are sleeping on the hill.
---
Daybook is contributed by Steve King, who teaches in the English Department of Memorial University in St. John's, Newfoundland. His literary daybook began as a radio series syndicated nationally in Canada. He can be found online at todayinliterature.com.