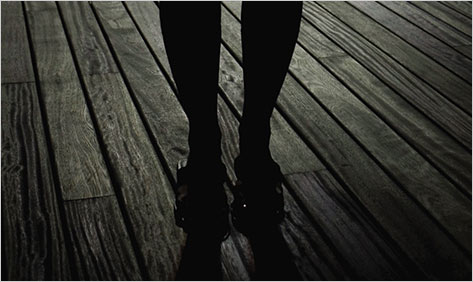 Denise Mina is the author of, among numerous works of fiction, two gritty trilogies set in her native Glasgow: the first, the Garnethill series, stars hard-luck case Maureen O'Donnell, and the other, journalist Patricia "Paddy" Meehan. The novels amount to a gallery of urban social decay, its malign species — drugs, alcoholism, sexual predation, violence, extortion, child neglect, feral slovenliness, and greasy fast food — exhibited in dramatically monstrous detail. Now "Still Midnight" begins a new series with Detective Sergeant Alex Morrow of the Strathclyde Police at its center, a woman perfectly situated to extend further the catalog of badness in Glasgow.
This novel is a little wider and deeper, and oddly enough, kinder, than Mina's earlier ones. It proceeds chiefly from the points of view of three well-drawn characters. DS Morrow is one, of course. In her mid-thirties, she is the daughter of an unmarried mother and a philandering criminal, a fact she has managed to keep hidden as its revelation would threaten not only her advancement, but her even being retained on the police force. She is unforthcoming in every other respect as well, keeping pretty much buttoned up except for flares of expletory rage and descents into the accents of the streets. She concentrates on her career: work and ambition serving to keep at bay thoughts of a terrible personal tragedy, one only gradually revealed.
Another point of view is that of Aamir Anwar, a sixty-year-old Asian shopkeeper who was expelled with his mother (and other British passport holding Asians) from Uganda in 1972. That escape involved a terrible event upon which Aamir dwells constantly with shame and remorse. Physically slight and socially deferential, he now lives modestly in a tidy bungalow with his wife, daughter, sons, Omar and Billal, his daughter-in-law, and infant grandchild. The third character whose consciousness makes up the novel's weft is Pat, a good-looking nightclub bouncer and petty criminal who has gotten mixed up with a venture that is entirely out of his league.
It is a kidnapping. Pat has reluctantly become a party to the scheme in an effort to cheer up his old pal Eddy whose wife has left him, taking the children. We increasingly see how she might; Eddy is one of the most enjoyably repulsive thugs I have met in some time. Running to fat, he is a bully and a blowhard, his disposition a mishmash of self pity, resentment, and truculent swagger. He fancies himself a special-ops kind of guy and has equipped Pat and himself with brand-new gear: camo trousers, military boots, flak jackets, balaclavas and automatic pistols. (Pat finally draws the line at smearing on black camouflage makeup.) Pat's cousin, Malki, a junkie, has been enlisted as wheelman for their stolen van and the crack team of incompetents sets off for the house of the Anwars. Bursting in — Eddy catching his foot on the door mat — they botch the job, accidently shooting the teenage daughter in the hand, failing to find some crucial person called "Bob," and dragging off Aamir for lack of anyone easier to manhandle. Eddy demands £2 million in used notes by the next day for their hostage's release, adding, as they leave, hard man that he is: "Fucking payback. For Afghanistan." (This, he later boasts to Pat, was to throw off the police.) They stash Aamir in the grotesquely filthy house (appreciatively detailed) of a decrepit, utterly unreliable drunk called Shugie.
And what, Pat wonders throughout this escalating fiasco, makes Eddy think that the Anwar family could come up with that amount of cash? That's what the police would like to know too. Is the family involved with drugs or radical Islam or what? Morrow, whose investigation this should have been, is bumped in favor of the suave, cynical, and appropriately named DS Grant Bannerman. Though less experienced and less bright than Morrow, he is being propelled to the top as the scion of a family of policemen. With this development comes one of the tried and true pleasures of today's feminist crime novel: a routine which might be called the "Prime Suspect" Effect. It is the spectacle of some golden boy bungling while a gifted female cop seethes with frustration and finds herself obliged to add outmaneuvering her own police force to the job of nailing criminals. Morrow plays her hand unscrupulously and astutely, often wrong-footing Bannerman and rattling their superior, Detective Chief Inspector MacKechnie, who, as a leader, styles himself as a modern, consensus-builder. "It must be a struggle," Morrow muses as she observes the man, "to blend his vegetarian management style with honest aggression."
Still, Morrow's relationship with Bannerman and with her superiors shifts and alters as the increasingly puzzling case begins to look as if it is not the plum the big boys thought it would be. There is a great deal of jockeying in and out of the frame of responsibility, and at times Morrow and Bannerman even find themselves working in harmony. Indeed, all the many relationships in this novel, troubled as they are by the press of one-upmanship, conflicts of class, gender, and race, and by the weight of personal tragedy, are constantly in flux, their mobility exceptionally well realized. In addition, the novel is truly capacious as many of the characters possess rich lives of memory and fantasy, at times poignant, at other times very funny. Both Aamir Anwar and Alex Morrow are constantly thrown back to the sad pivotal events of their lives; Pat finds himself in love with the young woman he shot; Eddy dreams of paramilitary exploits, Omar, of owning a Lamborghini, and Shugie, of limitless booze and the respect of a barmaid.
The book really has everything you want in a crime novel: enormous suspense, acerbic wit, arresting detail, and an ever-mutating plot. But there is improbable sweetness here too. There is a word I would never have used to describe Denise Mina's work until now; but the truth is, this intense, fast-moving crime drama is, in the end, utterly charming.