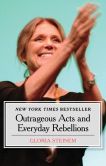 Gloria Steinem turns seventy-nine today. "I Was a Playboy Bunny," perhaps the most famous of Steinem's early magazine articles, describes her undercover adventures as a waitress at the New York Playboy Club. The excerpt below is Steinem's summary account of her first night as a pro Bunny, during which she gained $29.85 in tips (all the bills and coins stuffed uncomfortably down her costume front) and lost five pounds:
I had all the tables in Cartoon Corner…from seven-thirty to four o'clock in the morning with no break. With loaded trays balanced in one hand, I made sixteen round trips to the bar each hour until I lost count. I also had three iced drinks spilled down my back by customers…and two green olives to eat all evening.
The Bunny article leads off Steinem's first book on feminist themes, Outrageous Acts and Everyday Rebellions (1983), which she introduces with another sort of summary, a highlight reel of "scenes and sense memories" that document the "rewards and punishments" of her first twenty years of activism. On the ledger's lowest-of-the-low side, she recalls discovering that she was a satiric centerfold for Screw magazine; as last item on the rewards side, she recalls this:
Sitting in an ethnic hall in Detroit, at a local celebration of Ms. magazine's tenth birthday, and being tapped on the shoulder by a small, gray-haired woman with gnarled, hardworking hands and a starched cotton housedress that is clearly her best. "I just want you to know," she says softly, "that you are the inside of me." All reward came together in one moment. Remembering now that woman's touch and words, I still feel the tears behind my eyes.
Steinem's birthday is also the anniversary of the Triangle Shirtwaist Company fire, in which 146 garment workers, all but a handful of them women, died. As Steinem continues to speak out — in a college talk just a few days ago on "The F Word: Feminism Today" — so Ms. continues to speak up for the female working poor, a magazine editorial commemorating the 2011 centennial of the fire noting the "resurgence of sweatshop labor throughout the U.S.," a new generation of immigrant women working "under brutal conditions for meager wages."
---
Daybook is contributed by Steve King, who teaches in the English Department of Memorial University in St. John's, Newfoundland. His literary daybook began as a radio series syndicated nationally in Canada. He can be found online at todayinliterature.com.