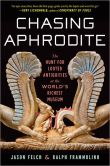 The Venus de Milo was discovered on this day in 1820, by a farmer digging among the ruins of Milos, the ancient capital city on the Aegean island of the same name. Just as the island itself had for centuries been pulled by the tides of regional power politics, so the statue was immediately caught in a many-sided tug-of-war. The peasant, who had been digging for rocks he could reuse on his farm, was anxious to sell his find quickly; the local Greek authorities wanted a cut of any sale; the ruling Ottoman Turks made a bid based on colonial entitlement; and a French naval officer, who just happened to be digging for antiquities a few yards away from the farmer, hoped to hustle the statue home as a gift to King Louis XVIII — something the nation could offer as a trophy-art rival to the Elgin Marbles, enshrined in the British Museum just a few years earlier. Ready cash and good timing awarded Venus to the French, and but for a few years in safe storage during WWII, she has been a star attraction at the Louvre ever since.

"Trafficking in looted art," say Jason Felch and Ralph Frammalino in Chasing Aphrodite (2011), "is probably the world's second-oldest profession." One documentation for this claim is a piece of Egyptian papyrus from 1100 B.C. describing the trial of men found stealing from the pharaohs' tombs — the papyrus itself now in the British Museum. As indicated by their subtitle, "The Hunt for Looted Antiquities at the World's Richest Museum," Felch and Frammalino focus their cultural who-stole-it on one institution, the J. Paul Getty Museum in Los Angeles, and on the acquisition of another love goddess:
Over four decades, the Getty chased many illicit masterpieces — a bronze athlete, a towering marble youth, a sculpture of savage griffins, a golden funerary wreath. One of those acquisitions — the museum's iconic seven-and-a-half-foot statue of Aphrodite, the Greek goddess of love — would become a totem for the beguiling beauty of ancient art. The goddess held an allure so strong that a museum risked everything to own her; a nation rose up to demand her return; archaeologists, private investigators, and journalists scoured the globe for her origins; and a curator ruined herself trying to keep her.
---
Daybook is contributed by Steve King, who teaches in the English Department of Memorial University in St. John's, Newfoundland. His literary daybook began as a radio series syndicated nationally in Canada. He can be found online at todayinliterature.com.