1. Sonny Til and the Orioles, Live in Chicago 1951 (Uptown). The vocal quintet from Baltimore are three years into their career and still scoring hits; their biggest, "Crying in the Chapel," is two years ahead of them. With "It's Too Soon to Know," from 1948, they brought doubt, contingency, jeopardy — the sense of possibility and extinction that was the common dream of the immediate postwar period — onto the radio. This night there are small, even trivial songs, and a lovely close — "What Are You Doing New Year's Eve?" and the graceful "So Long" — but "It's Too Soon to Know" remains the well from which every element in their sound that made them different, that made them new, will always be drawn.
"Does she love me?" is the opening line. Sonny Til hangs the first two words over the song, refusing to let it begin. You can believe, in the moment, that it will stop right there and they'll walk off the stage, knowing there can never be an answer.
Often when a group plays a hit they speed it up, to compensate for its familiarity; Til slows it down, drastically, so that the listener hangs onto the music. It's scary — how are these singers going to get out of the song? The soul in the performance deepens. Til holds the word "die," but not its note, for ten seconds — it sounds easier than it is — but it doesn't feel like a trick. People around a table in the club laugh, maybe at something one of them said, maybe at the melodrama. Til follows by holding the note on "to" — "I can't wait," another Oriole says as Til begins to float across the ceiling of the song — for sixteen seconds. "I think you got this one by yourself," the second voice says. A woman laughs. There isn't a trace of melisma. He is stopping time, and you don't want it to move on.

2. Sleater Kinney, First Avenue, Minneapolis (Valentine's Day). "They have more expensive haircuts," said a friend as we pushed our way up near the stage. Carrie Brownstein was half-blonde ("I'm going back to brown," she said in San Francisco three weeks later), and she did most of the talking (no Hello, Minneapolis! but a tribute to David Carr, who came from there) and most of the moving, but Corin Tucker, off to the side, was the visual rock, and the source of the most piercing noise. Every third song was like a rocket — it took off, there was a rush, and then you could feel it escape its own gravity the way a missile drops its fuel tanks. For their first shows since 2006, Brownstein, Tucker, and drummer Janet Weiss (with unintroduced visitor Katie Harkin in the shadows, moving from guitar to keyboards to tambourine — "I like to lurk," she said later) played songs mostly from the new No Cities to Love  and the 2005 The Woods, their last album before it — when they shot out "Call the Doctor," from 1996, the song gave the shock the band delivered when they first arrived, the chant so fierce you felt like pulling out your phone to do what they said.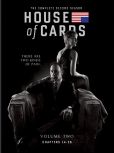 3. House of Cards, Season Three, Episode Three (Netflix). At a White House state dinner for the Russian president — named Viktor Petrov but wearing Vladimir Putin's saturnine face — Nadya Tolokonnikova and Masha Alyokhina of Pussy Riot, playing themselves and looking as if they just stepped out of the pages of Elle, are among the guests. When Petrov speaks, they stand and denounce him — and anyone who saw the two women beaten for speaking out, merely on a street, during the Crimea Olympics can believe they'd do exactly that. Petro offers a conciliatory, above-it-all toast: Whatever our differences, we are united in our love of our country, etc. Tolokonnikova and Alyokhina turn their glasses upside down and dump their champagne on the table and walk out.
You can see people dismissing the two of them as sellouts to glamour, turning their backs on their comrades in Russia to hobnob with Kevin Spacey and Robin Wright, living it up in New York, appearing in a high-profile TV show in gorgeous dresses after a $600 afternoon at the hairdresser's. But from bright colors to eye-shadow, glamour was never not part of Pussy Riot, or its Ukranian-French-Tunisian cousin Femen. As Masha Gessen's Words Will Break Cement: The Passion of Pussy Riot makes clear, the group was always more of an agitprop video collective than the "punk rock band" they were named in the media. In that sense their the few minutes in House of Cards is simply one more video — and that it was directed by Tucker Gates, not Pussy Riot, doesn't keep it from being something you want to watch again and again.

4. Bruce Jenkins is a sportswriter for the San Francisco Chronicle and the author of Goodbye: In Search of Gordon Jenkins. As he is the son of Frank Sinatra's finest producer, I asked him what he thought of Bob Dylan's Shadows in the Night. He wrote back: "I left my canvassing tools behind. I didn't want to know what any music critic felt about Dylan's project, or hear any bitter resentment over such a radical departure from the Sinatra mood. I listened to this album strictly from the perspective of being Gordon Jenkins' son – and I have to tell you, I found it quite sweet and tender.
"My father always said that he and Sinatra made 'September of My Years' at exactly the right time (1965) of their lives: mid-fifties, harboring untold memories of lost love and heartbreak, but still absolutely in their prime. I'm so glad to hear Dylan, in his interviews, speak to this. At his peak, he was far too contemporary to pay much attention to Sinatra. He wrote the smartest lyrics of his generation (and of many others, I might add) and spoke to the people right then and there. It seems that as a lover of words, though, he stashed certain lyrics in the back of his mind, deeply meaningful passages from songs he knew would stand up over time.
"He dug the melodies, too. And it was such a good idea to abandon any reliance upon strings, horns, or even the piano. That's been done. Dylan went into the studio with a wonderful pedal steel player, Donny Herron, who carried the instrumentals along with two guitarists, a bass player, and a percussionist. The result is a decidedly fresh interpretation of some classic material, and if Dylan's voice sounds a little raw, hey, the man's been belting 'em out for decades. My father used to get up and leave the room if some half-baked singer appeared on television, and Dylan's work might have driven him crazy after two or three bars. For me — and this is so crucial — the feeling is there, and if a Sinatra-Jenkins record strikes the image of a well-worn fellow pondering his fate in some lonesome tavern, Dylan resurrects it to perfection.
"I wonder if any of the old-school aficionados noticed a glowing tribute to my father's work at the end of Dylan's version of 'Where Are You.' Herron replicates the ending exactly: same key, the same four notes repeated, and then the finishing chord. How fine to hear just a touch of the old man in there, before drifting back into Dylan's special world."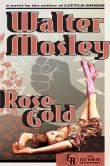 5. Walter Mosley, Rose Gold (Doubleday). As Easy Rawlins mysteries go, this missing-rich-girl number, set in 1967, seems tired of its plot almost before it begins. But the subject of the Easy Rawlins novels has always been an investigation — an interrogation — of racism in postwar southern California, and it's that strain of the book that gives it life. Rawlins puts flesh on Ralph Ellison's Invisible Man: as a detective, he says in a blues cadence that itself leaves almost no traces in the prose, white people "don't see me comin', don't know when I'm there, and couldn't tell you when I left." "Are you going to answer my questions?" an FBI agent asks Rawlins. "I am not," he says. "The freedom I had to refuse," he says to himself, "had its own history. Millions of people had died, and there were those who were still dying for my freedom to say no." That and much more comes to bear in a paragraph near the end of the book, when Rawlins goes to see an Indian named Redbird. Rawlins calls him "The-ha," "the last of the Taaqtam": when he's with him, Rawlins says, "I had the feeling I'd left white, European, and English America behind."  "Redbird was a country unto himself, an independent nation that would fight to the death for the sanctity of its sovereignty," Rawlins says, taking the long view, then circling back to the present like a man planting stakes in the ground. "He would have let me walk away if he wasn't in a war to save the daughter of a woman, a vestige of his prior colonization, who had to be appeased for an obscure article in some ancient treaty, written in a dead language."

6. & 7. Parsonsfield, "Moonshiner" and Zoe Muth & the Lost High Rollers, "Country Blues," from Signature Sounds 20th Anniversary Collection — Rarities from The Second Decade (Signature Sounds). Parsonsfield is from Connecticut — in the age of artisanal bird feeders and terroir gin, you think they don't have moonshine stills in Connecticut?  Their version of this ancient mountain standard couldn't be more ghostly, delicate, and thrilling — they hold the song back from itself, as if they're half afraid of it, and then, with a drumstick coming down hard, they dive all the way in. When you hear them sing the ancient lines "Then I'll go to some barroom / And drink with my friends / Where the women can't follow / And see what I spend," there's nothing old about the lines at all; they could be walking into the corner bar. The Texas singer Zoe Muth brings a light, slightly bent tone to the wastrel's tale "Country Blues." The Virginian Dock Boggs recorded the definitive version in 1927; Muth takes the song west, and back in time, giving the song to cowboys in Wyoming in 1892, just before the start of the Johnson County War. As her band sets a light, quick pulse, she skips across the tune, letting the melody shape her words, or the whole sense of being in the world, or out of it, that the song wants its singer to describe. She goes into her grave in the last verse, but you can see her rising out of it as if she's just getting out of bed.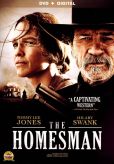 8. Tommy Lee Jones, "Weevily Wheat," in The Homesman, directed by Tommy Lee Jones (EuropaCorp). At the end of this bitter western — "Nebraska Death Trip," as one person watching put it — Tommy Lee Jones, who seems to be physically disintegrating when we meet him, tries to put the whole terrible story behind him. In the dark, he steps onto a barge on the Missouri River and begins to a sing a song Laura Ingalls Wilder quotes in On the Banks of Plum Creek. He's drunk, he's firing his pistol back at at Iowa, he's going back to Nebraska to die, he's dancing a jig, and the scene, almost frozen in the half-light, is familiar. Jones has precisely restaged one of the great western paintings, George Caleb Bingham's 1846 The Jolly Flatboatmen, and produced the sense of satisfaction you can get when the people in a picture lodged deep in your memory get up and walk.

9. Petula Clark, "La Nuit N'en Finit Plus," in Two Days, One Night, written and directed by Jean-Pierre and Luc Dardennes (Les Films du Fleuve). A young Belgian woman and her husband — Marion Cotillard and Fabrizio Rongione — are driving. She's desperately trying to round up co-workers to forgo a bonus so she can keep her job. The Petula Clark record — a 1964 rewrite of Jackie DeShannon's aching "Needles and Pins," a song so painful it makes Clark sound like Chrissie Hynde and even its elegant rhythm feels made out of doom — comes on the radio. Rongione turns it off. "Stop protecting me," Cottilard says. "I'm not protecting you," he says as he turns it back on. "You are. You thought the song was too depressing for me." "Well, it's not exactly — "  She turns it up, and laughs at him with her eyes. These people weren't born when this song was made, but it's their music like the air they breathe.

10. Bobby Donnie, Bobbie Donny Sings the Bobby Donnie Songs (Ehse). The Baltimore Sound, coming on seventy years later, and as unfixed as it ever was. There are primitive drums, played by songwriter Stephanie Barber, and crude guitar, played by Joan Sullivan, as there were when Corin Tucker and Tracy Sawyer formed Heavens to Betsy in Olympia, Washington, in 1991, and traded off on their two instruments. The first song here, "Birthday," echoes Heaven's to Betsey's harrowing 1992 "Baby's Gone," but without the harrow: nobody dies, but the same feelings, of confusion, guilt, defiance, are there. The songs crack, bend, come apart, crawl back together. The singing is flat, sometimes toneless, and some people will find the music an unbearable sick joke; it could also be the Slits' first rehearsal in 1976. That "Birthday" and "Baby's Gone" sound so close to each other is likely not influence but accident, or coding — a song the form itself generates in search of itself.