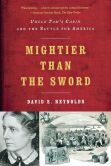 Harriet Beecher Stowe's Uncle Tom's Cabin was published on this day in 1852. Though it had been popular enough when appearing earlier in serial form, at least one book publisher turned it down on the grounds that a novel by a woman on such a controversial subject was too risky. He must have regretted it: the novel sold 10,000 copies in the first week, became an international bestseller, and became "central to redefining American democracy" (David S. Reynolds, Mightier than the Sword: "Uncle Tom's Cabin" and the Battle for America, 2011).

But many of Stowe's contemporaries attacked her and her book, some disputing her portrayal of slavery and slaveholders, some aghast that the revelations of beatings and forced sex had been voiced by a woman. The first objection motivated Stowe to collect even more documentary evidence, a process that left her thinking that "much as I thought I knew before, I had not begun to measure the depth of the abyss." This material, published as A Key to Uncle Tom's Cabin in 1853, reduced the book's enemies to personal attacks, and one Southern reviewer tried to make the most of the un-feminine argument: "Mrs. Stowe betrays a malignity so remarkable that the petticoat lifts of itself, and we see the hoof of the beast under the table."

The book and its theatrical spin-offs were extremely popular in Britain, for both anti-slavery and pro-feminist reasons, and when Stowe visited in 1853 she was overwhelmed by the crowds and the gifts. From the duchess of Salisbury she received two treasured items: a twenty-six-volume abolitionist petition, signed by half a million women, entitled "An Affectionate and Christian Address of Many Thousands of Women of Great Britain and Ireland to Their Sisters the Women of the United States of America"; and a gold bracelet in the shape of a slave's shackle, one link engraved with the date that slavery had been abolished in the British colonies, another link with space for the eventual date of abolition in America.

When Stowe returned home she sent the duchess a note of thanks in which she expressed doubt that she would live to see engraving day. Among the hundreds of pieces of hate mail that had arrived in her absence was a box containing a black human ear.
---
Daybook is contributed by Steve King, who teaches in the English Department of Memorial University in St. John's, Newfoundland. His literary daybook began as a radio series syndicated nationally in Canada. He can be found online at todayinliterature.com.