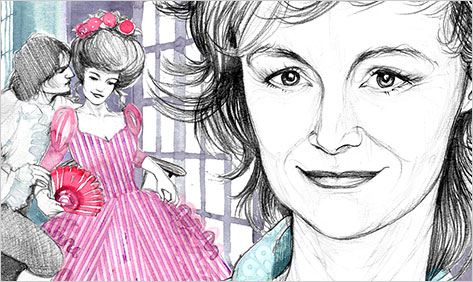 Marriage is tough if you dance into it with fairy dust in your eyes and white tulle trailing in your wake. But if you're forced into marrying a stranger or, even worse, into tying the knot due to a lie or a trick effected by your spouse? Now there's a recipe for disaster — except in Romance. I may loathe the concept of forced marriage in reality, but I love it in a novel whose cover promises that the pairing in question won't end in tears.
Madeline Hunter's Ravishing in Red offers an archetypal example of a forced marriage. A misunderstanding leads to Audrianna Kelmsleigh being discovered in an inn bedchamber with Lord Sebastian Summerhays; as Sebastian says, "We are both compromised, Miss Kelmsleigh. We will both pay." The novel offers the pure pleasure of seeing strangers forced into marriage, without blame attaching to one or the other. In Hunter's deft hands, this standard plot turns into a ravishing story about strangers who long for intimacy, who move with cautiousness — and then true joy — into a passionate marriage.
It's certainly harder to achieve that happiness if one or both partners have good reason to distrust the other. Lucy Monroe's Moon Craving pairs Talorc, laird of a Sinclair clan (and a werewolf under his kilt), with Abigail, an Englishwoman who happens to be deaf, but is adept at "passing" for normal. In short, when the English king orders these two to wed, they are not merely strangers, but strangers who are actively keeping secrets from each other. Moon Craving is fascinating in that it combines the paranormal with a much more human examination of the emotions that surround shame, disability, and lies between spouses. Abigail and Talorc soon enough fall in love, but the fact that they don't really know each other stands between them. Here arranged marriage becomes a metaphor for the difficulty of ever sharing one's true nature; even when Talorc realizes that he can speak mentally to Abigail, he holds back, reluctant to engage in such unsettling intimacy. She, meanwhile, believes that he could never love someone as damaged as she; her shame and lack of understanding of his true nature exacerbates his reluctance to make himself vulnerable to a virtual stranger.
Lynsay Sands's Taming the Highland Bride offers a complex twist on the question of knowing. The plot reveals itself when Merewen Stewart is delivered, by her drunken father and brothers, to her long-standing betrothed. For years Merry has longed to escape her childhood home, where she has spent her days cleaning up after the family inebriates — but she quickly changes her mind when she crosses the threshold of her new house. Alexander d'Aumesbery takes one bleary look at her, blurts out, "Damn me. You're pretty. You don't look like a shrew," and falls flat on the floor, unconscious. Merry recognizes instantly that her new husband is merely another worthless laird, just like her father. Alexander knows Merry to be a famous shrew; she knows him to be a drunk. In fact, she is brave and out-spoken, but not shrewish, and Alexander is being drugged by a disgruntled minor character. Sands spins a funny, laughable tale; you'll cheer as the drunk and the shrew discover they are a "perfect match," as Alexander says in the end.
Couples who don't understand each other's true nature face a battle to achieve intimacy — but one could argue that the battle is even more ferocious if one spouse has deceived the other to achieve their union. Sara Lindsey's Promise Me Tonight takes a clear-headed look at one of the toughest premises for a forced marriage when her heroine, Isabella Weston, deliberately and deceitfully sets out to marry her neighbor, James Sheffield. Isabella and James have known each other their whole lives, and it's common knowledge that James has no intention of marrying. Yet Isabella, a debutante with a crowd of admirers, wants no one but him. In the middle of the night, she forces the issue in a decisive manner, hopping into bed with a deeply sleeping man who doesn't figure out he's not dreaming until it's too late. James is livid, and when his new wife extracts a promise that he won't join the army, he promptly joins the navy. Now her cunning seduction stands up against his lie as the block to a happy union. Their long familiarity with each other is no help; as Isabella says: "He was her husband; he was James, and yet in some ways he was a perfect stranger." Neither one of them has reason to trust the other, and yet this enchanting tale makes you believe that love can triumph over such seemingly insurmountable odds.
While Lindsey pits two long-time acquaintances against each other, Susan Elizabeth Phillips's This Heart of Mine puts two near strangers in the same situation. Molly Somerville has lusted after (and despised) Kevin Tucker, a famous football player in the franchise owned by her sister, for years. He's never really noticed her, until they accidentally end up in a cabin together, where he finds her surprisingly funny and sweet, though obviously off-limits as his boss's sister. But on their last night in the cabin, Molly succumbs to the sort of impulse that every woman hopes — prays! — will never happen to her. She drifts downstairs, where Kevin is fast asleep on the couch, and joins him in what he thinks is a happy dream. This is one of the funniest and most painful scenes I've read, written by a true comic genius. Phillips gives Molly's seduction the same sense of looming catastrophe that structures Woody Allen's best skits. Marriage is the disaster that ensues: marriage between two strangers, a union forced by the baby who happens along as a result — to call a spade a spade — of a rape. This novel lays bare the pleasure of watching people marry who don't know, trust, or like each other. It's like peeking out the car window just as a train jumps the tracks.
But we don't read romances of forced marriage simply because a train wreck is happening and we happen to be there. We seek them out, I would argue, because marriage is a frightening proposition at the best of times. Being literal strangers is only, in truth, a small step away from being the emotional strangers that many newlyweds are. Marriage is a huge leap of faith — and these books allow us the tremendous pleasure of recognizing that sometimes the greatest leaps bring the greatest joys.
---
If you'd like to discuss romances featuring enforced marriages — those in the column or your own favorite examples — please stop in to chat with Eloisa James in the Romantic Reads Book Club, where she'll be joined by Madeline Hunter and Lucy Monroe. Please do check out Eloisa's past columns in the Archives, and if you'd like to get her reaction to romances as she reads them, follow her on Facebook or Twitter. If you'd like a peek at Eloisa's own romances, please visit her web site at www.eloisajames.com.
And don't forget the Barnes & Noble daily romance blog, Heart to Heart, where the fabulous Michelle Buonfiglio chats about the hottest news in the world of romance, from favorite authors to scorching love scenes.