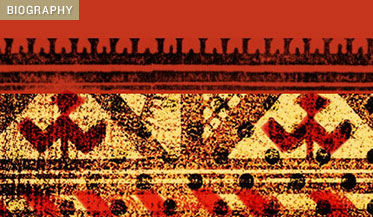 Each of Tracy Kidder's books sheds light on at least one seminal aspect of human existence — work, technology, home, education, community, healthcare. In his impressive run as a literary journalist, he has produced eight books of narrative nonfiction that focus in great detail on a carefully chosen, seemingly small story that turns out to have much broader significance. Taken together, his work paints a multifaceted portrait of American life.

His new book, Strength in What Remains, is more global in outlook, addressing issues of immigration, world poverty, and violence — again, by zeroing in on one man, a charismatic, sympathetic Burundian medical school student who survived Tutsi-Hutu massacres in his native Burundi and genocide in neighboring Rwanda. It is an important and absolutely gripping, mind-altering book, a must-read on many levels.

Like John McPhee, whom he has cited as an influence, Kidder is a peripatetic, hands-on investigative reporter who bores deeply into a story and unpacks it with a strong narrative line, an intricate structure, a strict adherence to facts, and an admiration for his subjects. He has written that a fundamental job of nonfiction is "to make what is true believable."

Beginning with The Soul of a New Machine (1981), his Pulitzer Prize- and National Book Award-winning chronicle of the making of a computer at the dawn of the personal computer age, Kidder's early books stayed relatively close to his western Massachusetts home, demonstrating that you don't have to travel far for extraordinary stories if you scratch below the surface. In House (1985), Kidder explored the meaning of home while chronicling the process of building an architect-designed house in Amherst. Among Schoolchildren (1989) profiled a Holyoke schoolteacher's tenaciousness in a public school system plagued by numerous social and economic woes, while Home Town (1999) examined the panoply of life in a midsized town, Northhampton.

Kidder wandered farther afield with Mountains Beyond Mountains (2003), an inspirational portrait of Dr. Paul Farmer, the infectious disease specialist and humanitarian who helped bring healthcare to Haiti by founding Partners in Health. Strength in What Remains is in many ways a natural outgrowth of that project. Also addressing global issues of poverty and health, it probes the lasting effects of violence and evil. Kidder tells the story of Deo, who barely made it to New York City — through the intervention of a wealthy classmate — as a refugee from Burundi and Rwanda in 1994. Once in America, Deo's struggles were hardly over. He was free from physical threat but tormented by memories of mutilated, slaughtered families and burning bodies. Kidder writes, "No one was chasing him with a machete now?. Now his body was at rest. Now it was his mind's turn to run."

Sick and weakened from six months on the run, knowing no one and speaking no English, the former medical student is fortunate to be taken under the wing of a Senegalese baggage handler upon his arrival at JFK Airport. This man, a struggling immigrant himself, leads Deo to shelter in an abandoned Harlem tenement and helps him find a grueling job delivering groceries for $15 per 12-hour day. The first English phrase he masters is, "Where is the service entrance?" He despairs in his new life, which "made you feel like you were simply not a human being." Miraculously, through the determined help of a cadre of good Samaritans, he eventually resumes his studies at Columbia University and lands at Partners in Health and Dartmouth Medical School.

Deo's story is heart-pounding, horrifying, and awe-inspiring. In simple, direct prose, Kidder describes Deo's childhood, porting grains with his older brother, barefoot, from their family's lake farm up to their village home in Butanza, some 50 hilly kilometers away; his early education, a haven despite frequent corporal punishment; his decision to study medicine in Bujumbura rather than accept a scholarship to study for the priesthood in Belgium; his harrowing flight from violence; and his unswerving ambition to bring medical care to Burundi. Kidder comments repeatedly that he doubts he would have survived such an ordeal.

Digesting reams of research, Kidder explains how the violence in East Central Africa grew out of long-standing Tutsi-Hutu ethnic tensions that were exacerbated by Belgian colonization in the early 20th century. Approximately 50,000 Burundians were killed in the 1993 violence, and somewhere between 100,000 and 300,000 in the succeeding ten years of civil war. The death toll was even higher in the shorter-lived Rwandan genocide — often put at 800,000 people. Kidder comments, "If you read too many numbers like those, they begin to take on a pornographic quality — all those lives turned into integers, the bigger the more titillating, and the more abstract." By making us care so intensely about Deo, Kidder puts a face on genocide and humanizes East Central Africa's plight.

A lesser writer might have been happy to milk Deo's story for its page-turning power and leave it at that. But Kidder is after something deeper here: After reconstructing Deo's tale without comment or interruption in Part I, Kidder circles back in Part II to chronicle his own efforts to understand Deo's life and probe the long-term effects of such "ungovernable" memories. In other words, he delves deeper, beyond the survival story, to questions of good and evil, despair and perseverance. Although less intense, this material is no less compelling.

Kidder revisits the scenes of Deo's past, starting in New York. In 2006, three years after having met him, he accompanies Deo on one of his trips back to Burundi and Rwanda. He worries about Deo's "endlessly renewed sorrow" and about further traumatizing him with his inquiry: "On several occasions, I offered to stop my search for his story and let his memories die, if they would. I believe that once or twice, I sincerely hoped he would accept my offer."

Kidder confesses, "Actually, I thought if I had memories like his, I would spend the rest of my life as far away as possible from Rwanda and Burundi." But, over the course of their often tense trip together, he comes to recognize that Deo's determination to bring public health service and medicine to his parents' village is his way of coping with the problem of evil: "These, I think, were the subjects around which time could reassemble for him, around which past and present and future could begin to seem coherent and purposeful."

Strength in What Remains takes its extraordinarily apt title from William Wordsworth's resonant lines,
Though nothing can bring back the hour
Of splendor in the grass, of glory in the flower;
We will grieve not, rather find
Strength in what remains behind;
In the primal sympathy
Which having been must ever be;
In the soothing thoughts that spring
Out of human suffering;
In the faith that looks through death,
In years that bring the philosophic mind.

Kidder's book stirs our primal sympathy and nurtures our philosophic mind. It is a remarkable achievement.