Books that keep the cold on the page.
---
By David Roberts
We'll let Peter Lewis set the scene: "Imagine being in the Australian polar explorer Douglas Mawson's boots late one Antarctic night. Better yet, image sliding your weary, cold-cracked bones into his wet, stinking reindeer fur sleeping bag, which is shedding hair as if in chemotherapy. Outside the tent — if this pathetic, jerry-rigged shamble of cotton and sledge runners can be called a tent — the wind shrieks and sobs, all is dark, and the mercury huddles in the bulb at the bottom of the thermometer, with nowhere lower to go. " Fireside reading in its most ideal form.
---
By Jean-Christophe Valtat
Point your airship to the pole: Melding the droll politesse of Jack Vance with the phantasmagorical realpolitik of China Miéville, Jean-Christophe Valtat conjures up a polychromatic, steampunkish "New Venice" in the Arctic. Exemplifying Italo Calvino's mandate for "lightness" in fiction, Valtat's bold and capricious prose dances across the page like Saki's or Firbank's, while also embodying Mark Helprin's nostalgic moral seriousness — think Winter's Tale on ecstasy. An opening salvo in a promised snowball cannonade of fantasy.
---
By Tove Jannson
The story of a snowbound Scandinavian village and two women — one an outcast, one a respected citizen, whose paths cross with disturbing results. Jannson is best known for her Moomintroll stories for children (and her Moominland in Midwinter is another lovely snow-day read), but later wrote a number of psychologically acute, brilliantly compact novels for adults.
---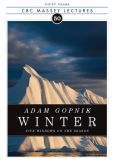 Winter: Five Windows on the Season
By Adam Gopnik
Might "winter" one day become a historical concept rather than an ordinary aspect of the year? Faced with the prospect of global warming, the New Yorker contributor and author of the bestselling Paris to the Moon delivers a stunning meditation on the season, a brilliant evocation of all that we treasure in winter — and might one day lose.
---
By Laura Ingalls Wilder
Amid howling winds, freezing temperatures, and blizzard after brutal blizzard, the Little House family — hunkered down in one room with dwindling supplies of food and fuel — persevere with a little help from Pa's fiddle, Ma's improvisational cooking, and a lot of hope. Ages 8 and up, and perfect for a family read-aloud.