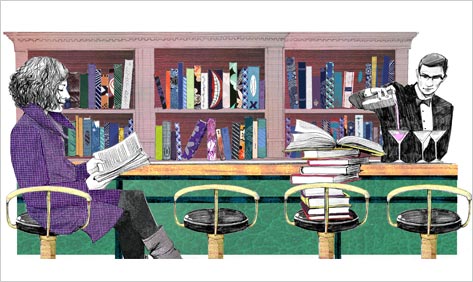 "'The only term I really despise is semiformal,' says Miss Manners. 'It is a despicable term that deserves to be eliminated. Sounds like the pants are not to match the jacket.'" —The New York Times
We are so pleased to invite you to our party! You should be so pleased we invited you. You should really plan on coming. If you want, or whatever! We have included a detailed guide to our Summer Cocktail Semiformal Optional-Rustic Vintage Heirloom dress code. Not to be confused with Spring Garden Spritzer Formal-Moccasin Retrofeather, or Early Autumn Quinoa & Rhinestone Taupe Picnic Chic. Thank goodness! I mean, autumn, really? That is so next season.
As host and hostess, it is our responsibility to share our artistic vision with you, and it is your responsibility to wear the vision on your body! If you want, or whatever! Summer Cocktail Semiformal Optional-Rustic Vintage Heirloom requires a bit of planning, but the results are basically worth it. Think of the pictures!
For example. If your dress looks like it was pickled in a mason jar then attacked with a witty glue gun, you're doing fine. If your dress looks like an overcast day when the ghost of Zelda Fitzgerald stumbles upon Urban Outfitters for the first time before meeting her sickly, super-thin aunt for lunch salads, you're doing great. If your dress looks like it was dipped in a bucket of rust and then tarred and feathered with the plumage of a peacock born in 1933, you're definitely on the right track!
These are good examples of things to wear, but don't wear these examples! Can't you come up with your own ideas? Summer Cocktail Semiformal Optional-Rustic Vintage Heirloom requires tiny splashes of creativity, like signature cocktail shooters served in bacon-rimmed thimbles. If you're not creative, you're not invited. Kidding!
For example. The hostess will wear a lacy dress in a toasted hummus hue, embellished with handkerchiefs salvaged from the Downton Abbey costume room, coupled with a sequined clutch studded with upcycled tears from the Titanic, and filled with small, edible plants. She would tell you about her shoes, but her shoes are a surprise. She recommends that everyone else try bare feet. If you want, or whatever!
The host will be wearing an ironic bowtie, but not too ironic. His socks will be funny, but not too funny. His mustache will be huge, but not too huge. He's planning to be helpful at the party, but not too helpful.
You should feel comfortable in your chosen attire…but not too comfortable.
Are you catching what we're throwing? Are you wearing satin gloves smeared with festive chalkboard paint while you're throwing it back?
Did you go to Pete and Barney's Black and White Gala? You did? That's so fun! Guess what? This is not a Black and White Gala. If black and white is the Upper East Side, then grab a taxi and turn around because you've missed everything. Haven't you been listening? Our party is the baby bird tattoo on the hip bone of the Upper East Side. Our party is in a new neighborhood that tourists call Sepiaville, known to locals as Muted-Palette Drainpipe Village Under the Brooklyn Bridge. Our party thinks Pete and Barney are terrible, and hopes to be invited to their Black and White Gala next year.
What's that? You don't know how to find our neighborhood? That's totally fine. We've created an easy, interactive app with scenic directions to the event. For example. We recommend traveling on bicycle and pogo-stick. If you want, or whatever?
Hilary Leichter's writing has appeared in n+1, Tin House, The Kenyon Review, and elsewhere. She is a recipient of a 2013 fellowship from The Edward F. Albee Foundation.