Titans clash, millions watch — and don't forget about those commercials.
---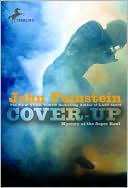 Cover-Up: Mystery at the Super Bowl
By John Feinstein
The third in prolific (and talented) journalist Feinstein's series of sports mysteries for young adults finds his fresh-faced protagonists, Steve Thomas and Susan Carol Anderson, busting open the biggest sports story of the decade: a huge steroids cover-up by one of the teams in the big game.
---
By Bob McGinn
Bob McGinn has put together a true football fan's compendium of Super Bowl stats, rosters, and top 10 lists — but there's much more here than mere numbers. McGinn interviews more than 150 coaches and players from the 43 previous Super Bowls, using these often revealing exchanges to shed light on what it takes to win the Vince Lombardi Trophy. The result is almost enough to tide you over between seasons.
---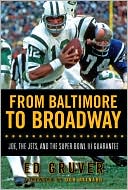 From Baltimore to Broadway: Joe, the Jets, & the Super Bowl III Guarantee
By Ed Gruver
When quarterback Joe Namath guaranteed that he'd lead his upstart New York Jets to a win in 1969's Super Bowl III over the heavily favored Baltimore Colts, he was considered loony. But the classic underdog story — lent an electric charge by Namath's star power — played out in spectacular fashion, changing not only the Super Bowl but the NFL itself, permanently.
---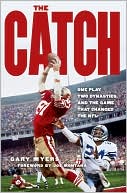 The Catch: One Play, Two Dynasties, and the Game That Changed the NFL
By Gary Myers
The 1980s dynasty of the San Francisco 49ers was founded on one incredible catch (see the book cover at left) with 51 seconds left in a game against the Dallas Cowboys — who experienced their own long reign of dominance put to a sudden end by the same play. Making this moment his keystone in a study of a changing game, Myers brings to light the long-term effects of the catch on players, teams, and the whole world of pro football.
---
By Allen St. John
Allen St. John went backstage and spent twelve months living inside the intense, unique world of Super Bowl preparations: the highly complex orchestration of television coverage; the hosting-committee logistics worthy of a military campaign; ticket distribution; stadium construction; and, oh yes, the celebrities. St. John digs into it all, and in the process suggests that the business of the big game contains as many fascinations as the contest on the gridiron itself.