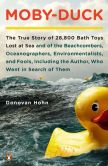 The Belgian-born American chemist Leo Baekeland introduced Bakelite, the first synthetic plastic, to the world on this day in 1909. Baekeland began commercial production soon afterward; by the time his patents expired in 1927, many other companies had begun offering a variety of similar polymer products; by the time Benjamin Braddock got his famous advice (The Graduate, 1967) more plastic was being produced than steel.

In the first decade of 2000, says Susan Freinkel in Plastic: A Toxic Love Story (2011), we produced as much plastic as did the entire twentieth century. Intended as an alarm bell, Freinkel's book begins with a description of her casual plan to document how thoroughly plasticized modern life has become. But her resolution not to touch plastic for twenty-four hours was abandoned almost immediately, when she realized she couldn't sit down on her plastic toilet seat in the morning. She then reversed her plan, now documenting every new article of plastic that she touched over the day. Her list was 196 items long, from her minivan dashboard to the sticker on her apple to both the notebook and the acrylic-coated pencil she used for her list making.

Another personal journey into plasticity is documented in Moby-Duck (2011), Donovan Hohn's entertaining and "True Story of 28,800 Bath Toys Lost at Sea and of the Beachcombers, Oceanographers, Environmentalists, and Fools, Including the Author, Who Went in Search of Them." Eventually spanning years, oceans, and continents, Hohn's odyssey begins with the wreck of a container ship and reflects an investigative reporter turned Captain Ahab:
Spot a yellow duck dropped atop the seaweed at the tide line, ask yourself where it came from, and the next thing you know you're on your way out at sea, no land in sight, dog-paddling around in mysteries four miles deep. You're wondering when and why yellow ducks became icons of childhood. You want to know what it's like inside the toy factories of Guangdong. You're marveling at the scale of humanity's impact on this terraqueous globe and at the oceanic magnitude of your own ignorance. You're giving the plight of the Laysan albatross many moments of thought.
A former English teacher, Hohn has no trouble drawing connections between his ducks and his Moby-Dick. Nor does he have any illusions, at quest's end, about where our collective folly is taking us: "I know now that it is upon Rachel Carson's ocean, not Melville's, that I've sailed."
---
Daybook is contributed by Steve King, who teaches in the English Department of Memorial University in St. John's, Newfoundland. His literary daybook began as a radio series syndicated nationally in Canada. He can be found online at todayinliterature.com.