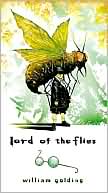 September 17: On this day in 1954 William Golding's first novel, The Lord of the Flies, was published. The novel was rejected by twenty-one publishers and had lukewarm reviews but it was immediately popular, despite its bleak view of human nature. Many of Golding's other nine novels are also read as gloomy evocations of his notion that "man produces evil as a bee produces honey."
In his 1983 Nobel Prize acceptance speech Golding complained of his doom-saying reputation: "Critics have dug into my books until they could come up with something hopeless. I can't think why. I don't feel hopeless myself." Golding goes on to express his belief that the novelists and poets of the world are man's greatest hope because they "allow man to speak to man, the man in the street to speak to his fellow," because they teach man to share the planet and "not to take himself with unbecoming seriousness." The speech concludes with an amusing anecdote describing Golding's most recent reminder of "my smallness in the scheme of things":
The very day after I learned that I was the laureate for literature for 1983 I drove into a country town and parked my car where I should not. I only left the car for a few minutes but when I came back there was a ticket taped to the window. A traffic warden, a lady of a minatory aspect, stood by the car. She pointed to a notice on the wall. "Can't you read?" she said. Sheepishly I got into my car and drove very slowly round the corner. There on the pavement I saw two county policemen.

I stopped opposite them and took my parking ticket out of its plastic envelope. They crossed to me. I asked if, as I had pressing business, I could go straight to the Town Hall and pay my fine on the spot. "No, sir," said the senior policeman, "I'm afraid you can't do that." He smiled the fond smile that such policemen reserve for those people who are clearly harmless if a bit silly. He indicated a rectangle on the ticket that had the words 'name and address of sender' printed above it. "You should write your name and address in that place," he said. "You make out a cheque for ten pounds, making it payable to the Clerk to the Justices at this address written here. Then you write the same address on the outside of the envelope, stick a sixteen penny stamp in the top right hand corner of the envelope, then post it. And may we congratulate you on winning the Nobel Prize for Literature."
---
Daybook is contributed by Steve King, who teaches in the English Department of Memorial University in St. John's, Newfoundland. His literary daybook began as a radio series syndicated nationally in Canada. He can be found online at todayinliterature.com.