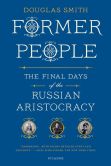 The Bolsheviks, led by forty-seven-year-old Vladimir Lenin, took control of Russia on this day in 1917. Douglas Smith's recent, award-winning Former People: The Final Days of the Russian Aristocracy tells the story of the Russian Revolution from the viewpoint of the other side, the privileged class that lost wealth, land and life in a few tumultuous days or weeks. Many seem to have been blindsided, but Smith shows that some saw what was coming as far back as the days of the French Revolution: "France will not calm down until its vile principles have established themselves in Russia," wrote the Russian ambassador to Great Britain in a 1792 letter to his brother back home:
As I have already told you, this will not be a war for life, but a war till death between those who have nothing and those who own property, and since the latter are few in number so they must inevitably perish.… Our distance from this turmoil will protect us for a time; we shall be the last ones, yet nonetheless we shall be victims of this worldwide plague. We shan't witness it; not you or I, but my son will.
In his Epilogue, Smith notes the irony that, a century on, has befallen some of the grandsons and great-grandsons of nobility. As their forefathers lost everything to runaway socialism, so they are now vulnerable to the bandit capitalism that has replaced it:
Nikolay knows that in Putin's Russia whatever he builds and whatever capital he manages to amass, be it his business, houses, cars, or money, it can be taken from him as soon as someone with enough power and the right political connections decides he wants it. And he also knows, like every Russian, that should this happen, he is helpless to stop it.
---
Daybook is contributed by Steve King, who teaches in the English Department of Memorial University in St. John's, Newfoundland. His literary daybook began as a radio series syndicated nationally in Canada. He can be found online at todayinliterature.com.