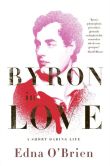 On this day in 1810 Lord Byron swam the Hellespont in emulation of Leander's legendary swims to visit his beloved Hero. Byron was twenty-two, and ten months into his two-year tour of the Mediterranean. He was not yet famous for his poetry or his profligacy, although he had just finished the first draft of Childe Harold, and had just ended, while in Malta, his first serious affair. This was with Constance Spencer Smith, a young woman who fit what would become the Byronic type — beautiful, forbidden (she was married) and dangerous to know (imprisoned on Napoleon's orders, she had escaped in a boy's costume provided by an earlier enflamed twenty-two-year-old nobleman).
Although Byron at one point attempted to defend Mrs. Spencer Smith's honor in a sunrise duel, she was no Hero, and he swam the Hellespont merely for the challenge and the fun of it. It took him two tries, but he bested the cold waters and the strong current (he reckoned that he traveled over three miles downstream during the one-mile crossing) in an hour and ten minutes. His journal entries and letters reflect pride — "I plume myself on this achievement more than I could possibly do on any kind of glory, political, poetical, or rhetorical" — but his poem "Written After Swimming from Sestos to Abydos" pokes fun at both the legendary Leander and "me, degenerate modern wretch":
…But since he crossed the rapid tide,

According to the doubtful story,

To woo and Lord knows what beside,

And swam for Love, as I for Glory;

'Twere hard to say who fared the best;

Sad mortals thus the gods still plague you!

He lost his labour, I my jest;

For he was drowned, and I've the ague.
A commemorative Hellespont swim now takes place every August. According to the Swim Hellespont website, the event includes coaching for swimmers, a post-race dinner, and optional tours to Gallipoli and Troy.
---
Daybook is contributed by Steve King, who teaches in the English Department of Memorial University in St. John's, Newfoundland. His literary daybook began as a radio series syndicated nationally in Canada. He can be found online at todayinliterature.com.