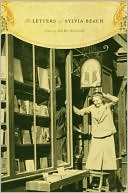 On this day in 1919 American expatriate Sylvia Beach opened her bookshop-library, Shakespeare and Company, in the Left Bank section of Paris, where it became an intellectual and social center for the international literary community throughout the next decades. As Beach's determination to publish Joyce's Ulysses made her bookshop famous, it seems fitting that it was her refusal to sell her last copy of Finnegans Wake which finally caused her doors to close.
It is a tale to stir the heart of any book lover. One day in early December 1941, a gray military limousine stopped in front of the bookshop and a high-ranking German officer got out. He studied the display window and then asked in a readerly way, and in perfect English, to buy a copy of Finnegans Wake. When Beach explained that she had only one personal copy left, not for sale, he clicked his heels and stomped out. Beach hid her copy of the book; the officer returned; they had the same conversation with the same result, though this time the officer shouted as he left, "We are coming to confiscate all your books today!"
Beach had defiantly kept her shop open through the early years of WWII, despite an ever-dwindling supply of books and readers — Paris reduced to just 25,000 weary citizens, most expats long fled. A number of her volunteer workers and friends were gone to the death camps, or the Resistance, or suicide. Too, at the beginning of the year, she had suffered the emotional blow of Joyce's death. These were all good reasons to finally close up, and not to close in this Gestapo manner. In two hours Beach and Friends had all of her 5,000 volumes boxed and in hiding, where they stayed until the end of the war. If and when the officer returned that day he must have thought he was in a Twilight rather that a Militarized Zone, as 12 rue de l'Odéon was completely empty — light fixtures, shelves, everything, gone — and the sign outside had been painted over.
Shakespeare and Company would never reopen, but in her memoirs Beach says that she and the books were liberated in August 1944, by Hemingway and Company, the author and his irregulars arriving on that day in jeeps and with machine guns. At Beach's request, they routed some German snipers on the nearby rooftops and then rode off, "to liberate the cellar at the Ritz."
---
Daybook is contributed by Steve King, who teaches in the English Department of Memorial University in St. John's, Newfoundland. His literary daybook began as a radio series syndicated nationally in Canada. He can be found online at todayinliterature.com.