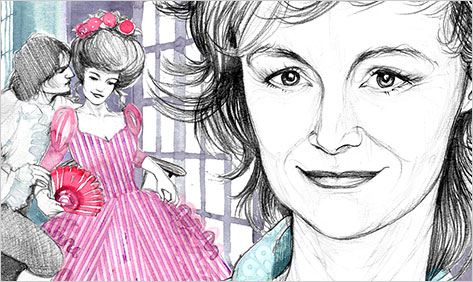 I've hated "Best" lists ever since I figured out that Rudolph was going down in history as the best of the best simply because he could do double duty as a flashlight. Yes, I feel bad that he was bullied by the other reindeer ("It Gets Better, Rudy!"), but the truth is that Rudolph was only top deer because fog hit the North Pole. Distinguishing between all the terrific novels I read this year is like peering into a stadium full of alpha heroes: I needed to arbitrarily whittle down the field, if not by fog, then by something more germane — perhaps relative muscle mass?

I considered blond hair (as rare in alphas as red noses on reindeer), but I finally settled on a phenomenon I call Backlist Frenzy. This happens when you finish a book at 11 p.m., hit "store" on your NOOK, and download every other book the author wrote. Then you stay up until 3 a.m. Some fantastic books didn't send me into a frenzy — simply because I had already read every book the author ever wrote (disqualifying, for example, Julia Quinn's The Sum of All Kisses). The backlist I read or reread wasn't always hefty, but these novels sent me straight to the store for a look into the past.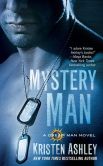 Kristen Ashley's Mystery Man opens with the heroine, Gwendolyn Kidd, in a moral dilemma. About a year ago she met a sexy guy at a bar and took him home for a fantastic night, after which he took off without even telling her his name, let alone asking for her phone number. A few nights later, he showed up in the middle of the night, made love to her, and took off again. This has been going on for months. Is he using her? Or is she using him? Fast-forward to Gwen meeting two attractive men who readily offer their names and numbers, at which point Cabe Delgado, a.k.a. Hawk, reveals himself to be a wildly possessive alpha who now wants more than nocturnal visitation rights. Gwen promptly falls in love with him — at least until it turns out that she wasn't his only regular destination; in fact, his bedroom buddies were nicknamed after the days of the week. What's more, "Wednesday" knows Hawk's name and number, whereas Gwen didn't even own a day. In fact, it seems she was known among Hawk's men as "filler," a hook-up whom Hawk would visit if his regular "day" was unavailable. I defy you not to read half the night after that revelation, hoping that Ashley can somehow pull the love story out of a downward spiral. Mystery Man is high-octane, high-emotion, wildly sexy — and also very funny. When it comes to Ashley's backlist, I particularly recommend the Colorado series.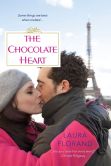 I had read one of Laura Florand's novels before, but it was The Chocolate Heart that sent me looking for her Amour et Chocolat backlist. Summer Corey is one of the most interesting heroines I'd read in a long time: she's a funny, eccentric heiress being blackmailed by her über-rich father into managing a French hotel. She hates Paris. She hates wearing heels and dressing professionally. And she hates eating dessert…which makes it all the funnier when she begins warring with the hotel's gorgeous chef patissier, Luc Leroi. Luc is an arrogant perfectionist, and when Summer finally decides to seduce him, she's horrified to discover that he rejects her. "I've got higher standards than this," he says flatly. Ouch! As with Mystery Man, Luc's back-story makes the novel not only emotionally satisfying but delicious. The Chocolate Heart deserves a shout-out for the pure beauty of its writing: unfortunately for my diet, Florand is particularly inspirational when writing about chocolate. But she also captures the nature of love, its fierce, soul-warming necessity, in a way that will make you as happy as the finest bonbon could.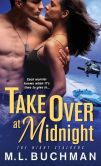 I loved the very first novel in M. L. Buchman's Night Stalker series, but I had lost track since reading I Own the Dawn. The newest book in the series, Take Over at Midnight, is terrific: a thrilling, passionate story in which love sparks in the midst of helicopter warfare, and it sent me running to read the backlist titles I'd missed. The series follows an elite helicopter crew stationed in Afghanistan who fight everyone from Al Qaeda to renegade U.S. generals. Buchman's heroine, Lola LaRue, is an ace pilot beginning a new job copiloting the helicopter in which Sergeant "Crazy" Tim Maloney is a gunner. There are quite a few military romances out there, but for me, what makes Buchman's stand out is the deft way that he builds not only a suspenseful action-packed plot, but also a passionate, complex romance. Lola and Tim are a recipe for disaster. Not only did her childhood in a brothel convince her that matrimony is absurd, but it would be illegal for them to "fraternize": as Lola is of an officer, and Tim only a sergeant. What's more, she's a bit taller than he is. Lola doesn't want to "own someone else's heart," and she's terrified when she finds Tim has given her his. I found the novel fascinating, not only in its derring-do but in its delicate attention to the difficulties of being a woman — and an officer — in the twenty-first-century army.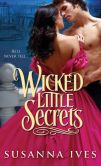 I've never read any of Susanna Ives's novels before, as I discovered when I went looking for her backlist — the reason being that Wicked Little Secrets is only her second one. Ives's heroine, Vivienne Taylor, is married to an extremely virtuous and moneyed young man who will presumably repair her family's fortunes. Unfortunately, Vivienne is not as prim and proper as her fiancé would like. One of her biggest weaknesses is her fondness for a childhood friend, the rakish Viscount Dashiell. To this point, the novel fell into familiar if beloved territory within the Regency romance landscape. But Vivienne and Hadrian are startlingly original and, Vivienne, in particular, has a fresh, funny voice that reminded me of Julia Quinn's characters. In the course of the novel, she finds herself entangled in a number of fibs, but she never bothers to lie to herself: "If a virtuous wife was above the price of rubies, Vivienne's worth, at the moment, was hovering around the price of dirt." Wicked Little Secrets is a farce: at some point Vivienne finds herself dressed as an angel in a brothel, and Dashiell ends up on the stage of the brothel as, well, cross-dressed and crooning, "Between my limbs awaits the erotic mysteries of India." Vivienne and Dashiell are joyfully silly, but deft sensuality and love turns the novel, crooning, cross-dressed hero and all, in a love story that is a pleasure to read.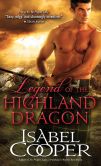 Isabel Cooper's Legend of the Highland Dragon was another first book for me; Cooper only published one other book, a few years ago. The novel is set in Victorian England, where Cooper's sprightly, feminist heroine has managed to get herself a job as secretary to a famous, elderly archaeologist. She isn't too impressed when one of her boss's colleague, Stephen MacAlasdair, appears in the office, but soon she finds herself in MacAlasdair's house, serving as his private secretary — while trying to cope with the fact that her new boss is evidently able to turn into a dragon and, in fact, does so on a regular basis. The mix of hard-headed realism and fantasy in this novel is enchanting. Like steampunk at its best, Victorian mores and melodrama are cast in sharp relief when dragons and fantastical quests are thrown into the plot.

Here are a few other romances published this year that charmed me into looking for the author's backlist — whether it existed or not. The heroes on this list are a disparate lot: one is gay, another an angel, one has Asperger's and another a dukedom. Each novel gave me a great deal of pleasure, and I hope they do the same for you.

Alexis Hall, Glitterland

Sarah MacLean, No Good Duke Goes Unpunished

Hope Ramsay, Last Chance Knit & Stitch

Graeme Simsion, The Rosie Project

Nalini Singh, Archangel's Legion
---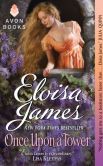 Eloisa James's latest romance is Once Upon a Tower; you can browse all of her books here.

You can check out Eloisa's past columns in the Archives, and if you'd like to get her reactions to romances as she reads them, follow her on Facebook or Twitter.
For sneak peeks at all of Eloisa's romances, please visit her web site at www.eloisajames.com.