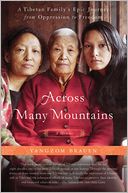 The Tibetan Uprising began on this day in 1959, when some 300,000 Tibetans surrounded the Dalai Lama's Lhasa residence, reacting to rumors that the occupying Chinese forces planned to abduct him. This defiant act set in motion the events that would shape modern Tibetan history: the Dalai Lama's escape to India, the subsequent death or flight into exile of tens of thousands, the persecution of many who remained home. The Chinese may never have intended to take the Dalai Lama captive, but their promises over the previous decade of cultural preservation and political autonomy had become a bitter joke to most Tibetans:
Then the Chinese came. At first with soft words and bright silver, and later with guns and death. They took away my fields, my animals and my home. They looted, desecrated and burnt temples and monasteries I worshipped in. Like vermin, they slew my friends, relatives, lamas, and all the people dear to my heart. On a frozen wasteland, thinly covered with wind-swept snow, I left behind me the twisted, bullet-ridden bodies of my family and my only little daughter.
This passage is from Rapten Dorje's Warriors of Tibet (1974), one of the first extensive accounts of life in Tibet during the 1950s occupation period, by one who worked for and then fought against the Chinese. Among the more recent books on Tibet's ongoing struggle is Yangzom Brauen's three-generation memoir, Across Many Mountains (2011). Brauen's grandmother, a Buddhist nun, was among those who escaped Tibet during the midcentury exodus. Brauen describes her grandmother's forced flight across the Himalayas to India, then her mother's decision to marry a Swiss man, the extended family now crossing the Alps to Switzerland. Brauen herself also crossed mountains — the Rockies, to Hollywood, where she clung to her Tibetan heritage even while becoming an underemployed Hollywood actress, one good at pitching product in a multicultural no-man's-land:
I spent most of my time on the freeway, driving from one casting to the next. I earned a living with commercial jobs; it seemed I had the right look for advertising. In L.A. I can pass for many different nationalities — Asian, Russian, Latina, or Italian — and that got me a lot of work. If I braid my hair they can take me for a Namibian, and with the right makeup I can play a Japanese woman.
---
Daybook is contributed by Steve King, who teaches in the English Department of Memorial University in St. John's, Newfoundland. His literary daybook began as a radio series syndicated nationally in Canada. He can be found online at todayinliterature.com.