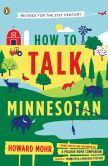 It is dullness made God. A savorless people, gulping tasteless food and sitting afterward, coatless and thoughtless, in rocking-chairs prickly with inane decorations, listening to mechanical music, saying mechanical things about the excellence of Ford automobiles, and viewing themselves as the greatest race in the world.

–from Main Street, the 1920 novel by Sinclair Lewis, born on this day in 1885
Lewis grew up in Sauk Centre, Minnesota, the kind of place his satiric novels targeted, and which can still inspire. Harold Mohr's classic How to Talk Minnesotan has recently been "Revised for the 21st Century" so that, for example, we might know "What to Say When Someone Shows You his Smartphone." But most of Mohr's advice remains pertinent, such as his mini-lesson on the ubiquitous expressions, a lotta guys and a guy could — as in, for example, "Well, I think if a guy took off that float valve with a Vise Grips, he could maybe get at the gasket then." This seems straightforward, though Mohr cautions, "Recognizing Minnesotan sarcasm is one of the toughest lessons a visitor can learn" — as in, "A lotta guys would've braced that wall, Joe." Add gender relations, and the Midwest can become a conversational minefield:
On a first date, a Minnesota man might easily say: "Do you suppose a guy could maybe get a kiss before you went inside?"
The Minnesota woman could say: "A lotta guys wouldn't ask."
Or she could say: "If a guy left right now he could be a block away before I got sick."
---
Daybook is contributed by Steve King, who teaches in the English Department of Memorial University in St. John's, Newfoundland. His literary daybook began as a radio series syndicated nationally in Canada. He can be found online at todayinliterature.com.