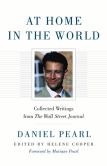 He talked to strangers more than he talked to his parents. Little did we know that "talking to strangers" would one day invite his tragedy. Weeks after learning of his abduction, our family and friends were still playing with fantasies of how Danny talks his captors into coming to their senses and ending their silly game. Until this very day, images of Danny talking them into playing a game of backgammon or humming a little tune are much more vivid than anything I will ever view on CNN.… They have silenced Danny's voice, but not his spirit — the legacy of Danny's lifelong "talking with strangers" will be forever in our heart.
The American-Israeli journalist Daniel Pearl was killed in Pakistan on this day in 2002. The above is excerpted from Judea Pearl's memorial address for his son, now included in At Home in the World, a collection of Pearl's journalism. In order to pursue the "talking to strangers" mission, the Pearl family has established The Daniel Pearl Foundation, several of its initiatives described below by Rabbi Jonathan Sacks in his To Heal a Fractured World:
The Daniel Pearl Foundation that Judea created is dedicated to reconciliation. Among its projects are bursaries for young Pakistani journalists to come to America to study and learn something of its culture and lessen their sense of alienation. It organizes concerts throughout the world, using music, as Daniel did, to bring people together.
---
Daybook is contributed by Steve King, who teaches in the English Department of Memorial University in St. John's, Newfoundland. His literary daybook began as a radio series syndicated nationally in Canada. He can be found online at todayinliterature.com.