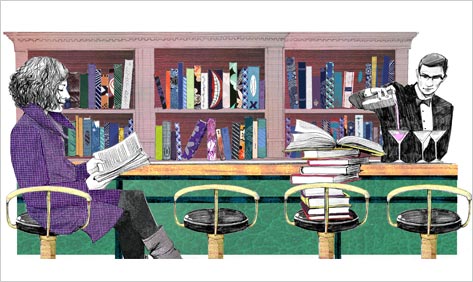 "Not long after Labor Day, [the restaurant Eleven Madison Park] will start treating diners to flashes of Broadway dazzle: card tricks, a glass dome full of smoke, a blast of sea mist from a tabletop clambake and a cheese course that emerges from a picnic basket placed on the table. It's all part of a $195-a-head menu — and a risky move to convert the Eleven Madison Park experience into an extravagant, interactive, close-to-four-hour ode to the romance and history of New York." — The New York Times


Welcome to Twelve Park Madison!

Your meal begins as New York began, with a forest — of edible salad greens, dressed with a light touch of a pure and clean rain. Our waiters, wrapped in beaver pelts, in tribute to the state's official animal, will serve this first course on a plate hand-carved from the wood of the sugar maple. (This appetizer, like all our offerings, is served on dishes that are guaranteed New Jersey-free.)
The original settlers of what was to become New York enjoyed native foods including corn, porridge, honey cake, and wild turkey. We have combined these ingredients to form your second course, and shaped this log of poultry, grain, and local honey to resemble the great symbol of New York City, the Empire State Building. Be aware that the antenna at the top is made from scrupulously recycled dented fenders and is thus not edible. The lights that make this food sculpture glow from within are similarly just decorative.

Your third course is stuck in traffic. It will arrive shortly.

We would like to offer you tonight's complimentary cocktail, the Yellow Cab. It consists of an authentic 1950s egg cream mixed with the runoff from a pizza slice. It will be served to you by an aspiring Broadway actor, because all of our servers are aspiring Broadway actors.
The George Washington Bridge serves as the inspiration for your next course. Tiny fingerling potatoes from a farm just outside Syracuse have been carefully carved into miniature automobiles, and are presented on your plate suspended between two corn-cob towers along a grape-seed roadway. The potato-cars should be dipped into the river of sauce that runs along the west side of the dining room. The dish is served with a side portion of pigeon confit, served surrounded by feathers trouvé and presented on a miniature manhole cover-shaped brittle.

We offer a palate cleanser before dessert, inspired by the musical Cats. It is made by cats — but don't worry, not real cats. It is made by people, dressed as cats. It is a scale model of the Statue of Liberty, constructed from the same kind of ice that would have covered the North American land mass during the last glacial period, and subtly flavored with your choice of scents of three New York locations — "West Side Highway," "Gowanus Canal," or "Staten Island" (our most popular).
Your featured dessert special is a slice of our homemade Occu-Pie Wall Street served alongside a candied Metrocard, and some granola bar crumbs that were found in the pocket of a pair of pants that have been certified as once worn by Woody Allen. Your meal will conclude with a selection of edible beads and trinkets valued at $24.
We would normally invite you on a tour of the kitchen before you leave, but the entrance to that area of the restaurant — which, as you can see, has been meticulously designed to look like a New York City subway entrance — is currently closed due to weekend construction. We estimate that it will reopen in October of this year, which means approximately June of 2013. Maybe.

As you exit, you are invited to take a free CD containing the horns-and-sirens soundtrack you have enjoyed this evening. Thank you for helping us to celebrate the romance and history of New York. And yes, we'll even give you back your wallet.
Jeremy Blachman has more Twitter followers than an account for the Gowanus Canal that announces the daily tides. Follow him @jeremyblachman or the canal @therealgowanus.