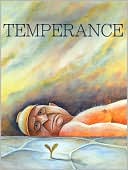 Three years after her award-winning debut graphic novel, Percy Gloom, Cathy Malkasian delivers her stunning followup, Temperance. This solidly grounded parable—rich with contemporary resonance for Fortress America— artfully and modestly flaunts all the same whimsicality, brutality, quiet heroics, worldbuilding, melancholy, weirdness and surrealism of its earlier cousin, but with ratios altered. Whereas Percy Gloom—protagonist and book alike—never lost a certain innocent joie-de-vivre, facing villains and challenges more Lewis Carroll than George Orwell, the new volume shifts its focus to a fable of tyranny and cultish behavior in a world where despair and futility are the rule. But the thick mordant substance of the problems and the exemplary excruciations of the characters end up delivering a more resonant payoff than even Percy's climax.
In a nameless world of primitive technologies and blasted landscapes, where fathomless wars run riot, a burly mad dictator—christened simply, yet with cunning genius, "Pa"—bullies, torments and abuses his two "adopted" daughters. One, Minerva, will inherit Pa's insane legacy: the isolated, walled city of Blessedbowl. The other, Peggy, will numinously disappear into the post-apocalyptic wilderness, serving as a remote token of hope to her sister throughout thirty years of necessary yet soul-crushing lies, as Minerva strives to govern Blessedbowl with the aid of her amnesiac husband, Lester, the only man ever to stand up to Pa, damaged though he was in the unequal contest.
Life in Blessedbowl is a Mervyn-Peake-ish affair, with Lester's war against harmless birds and against the voyeuristic Moon; with an obese family of gluttons, political rivals to Minerva; and with Lester's wooden leg which happens to be alive, and which later manages an independent existence. All these extravagant oddities assume palpable reality thanks to Malkasian's empathetic storytelling.
As for her artwork, Malkasian employs a delicate pencil technique full of exquisite shadings that incorporate echoes of earlier masters into a unique personal style. At times, her landscapes and figures approach the spidery essence of Saul Steinberg's work. Her evocative word balloons stem straight from George Cruickshank. Ben Katchor, M. K. Brown, Tony Millionaire and Shaun Tan are all, to some varying degree, kindred creators. But Malkasian moves beyond these antecedants, with clever and innovative gestures, such as her use of multiple iterations of the same character within a single panel, to indicate continuous motion. Additionally, her sparing use of splash pages lends those rare moments immense impact, culminating in the book's final glorious and redemptive shot.
If this book does not show up on all the comics awards ballots in 2011, the injustices perpetrated by Pa will pale by comparison.
-PAUL DI FILIPPO
---

Paul Di Filippo's column The Speculator appears monthly in the Barnes & Noble Review. He is the author of several acclaimed novels and story collections, including Fractal Paisleys, Little Doors, Neutrino Drag, and Fuzzy Dice.