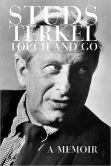 Studs Terkel was born on this day in 1912. Terkel's dozen books of oral history, compiled over a half century, are regarded as essential chronicles of this American life, especially as lived by the blue-collar class into which he was born:
At the rooming house my mother ran, my father was the invalid, bedridden much of the time. I shared that bed with him all of my preadolescent years. In New York, before he was stricken, my father had been a fine tailor. My mother, always nimble with her fingers and more so with her mind, was a magnificent seamstress. I still see her on her knee, pins in her mouth, fitting a neighbor woman into a new gown. I still see my father coming home from the sanitarium, wan, fatigued, gallant, insisting on going back to work. It was not in the cards….
In Touch and Go, a 2007 memoir of his own working life, Terkel proudly places himself in the tradition of the Victorian journalist Henry Mayhew, author of the 1851 classic London Labour and the London Poor. Because it gave voice to "the needle workers, the shoemakers, the street criers, the chimney sweeps; all those etceteras…who were so often seen, but, like well-behaved children, seldom heard," Mayhew's book became "scripture" and life-mission for Terkel: "Who are they, these etceteras of history, hardly worth a footnote? Who are they of whom the bards have seldom sung?"

Terkel described himself as a "neo-Cartesian" — one who believed not only "I tape, therefore I am" but "I tape, therefore they are." He concludes the Prologue to his memoir with a recollection that illustrates his point:
It was at a public housing project. A young mother. I don't remember whether she was white or black. The place was mixed. She was pretty, skinny, with bad teeth. It was the first time she had encountered a tape recorder. Her little kids, about four of them, demanded a replay. They insisted on hearing mama's voice. I pressed the button. They howled with delight. She put her hands to her mouth and gasped, "I never knew I felt that way."
---
Daybook is contributed by Steve King, who teaches in the English Department of Memorial University in St. John's, Newfoundland. His literary daybook began as a radio series syndicated nationally in Canada. He can be found online at todayinliterature.com.