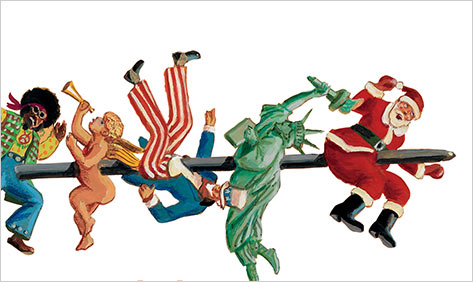 This whopper of a book, clocking-in at 400 pages, complete with an epilogue and notes, is a work of exhaustive research that details Harvard's little-satiric-magazine-that-could that spawned such American comedy institutions as Saturday Night Live — only to die on the vine as its impressive progeny thrived.
Unbelievable anecdotes, like the fact that John Belushi was only paid $35,000 for his role in Animal House, make That's Not Funny, That's Sick: The National Lampoon and the Comedy Insurgents Who Captured the Mainstream a delight for any fan of the early days of Saturday Night Live, an idea that came from Lorne Michaels and the Lampoon's Michael O'Donoghue. In addition to backstage drama and explosive egos, it's fascinating to learn that "after the success of Animal House, the whole country was SNL-conscious."
But Stein isn't afraid to touch on the more serious issues of the magazine, namely allegations of sexism. One female writer, Anne Beatts, was denied an editorship, because according to the powers-that-were, "women aren't funny". The magazine also approached the difficult role of producing satiric content in 1968, after Robert Kennedy was assassinated, "when people were in no mood to laugh." And the whirlwind of success was not without its victims. Just five years after launching the national magazine, co-founder Doug Kenney, "having blazed a comet-like trail of highly-visible successes, would tumble to his death off a cliff in Hawaii." Not to be deterred by tragedy, Lampoon writer and actor Harold Remis remarked, "Doug probably fell while he was looking for a place to jump."
Stein's detailed work in this book—see the lengthy epilogue that summarizes the post-Lampoon lives of those involved (Lorne Michaels, Dan Aykroyd, Richard Belzer, Chevy Chase, Al Franken, Christopher Guest, John Hughes, and many more) — illuminates just how essential The National Lampoon is to the entire culture of American humor as we know it today.