We're thrilled to annouce the winners of the 2013 Discover Great New Writers awards!
Anthony Marra's novel, A Constellation of Vital Phenomena (Hogarth/Crown Publishing Group), and Justin St. Germain's memoir, Son of a Gun (Random House) have been named the winners of the 2013 Discover Awards for fiction and nonfiction, respectively. Each writer was awarded a cash prize of $10,000.
In his roundup of the 2013 National Book Award nominees in these pages, critic Tom Leclair called out A Constellation of Vital Phenomena as a "splendid success" and declaring that "Marra's novel is superior to the finalists… it is meta-empathetic, a sophisticated experiment that requires readers to think about how and with whom they empathize, maybe victimizers as well as victims. If you dare having your strongest emotions elicited, then reversed, then possibly modified again, then maybe even judged by a novel, read A Constellation of Vital Phenomena."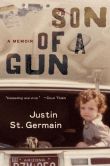 Discover Great New Writers director Miwa Messer has praised Germaine's Son of a Gun for the "raw, relentless honesty and emotional resonance" of its recollection of his mother's life and murder, in Tombstone, Arizona. Writing in the New York Times, Alexandra Fuller called it a "spectacular memoir" adding that "if the brilliance of Son of a Gun lies in its restraint, its importance lies in the generosity of the author's insights."
Second place winners are NoViolet Bulawayo's We Need New Names (Little, Brown & Co.) for fiction and Sonali Deraniyagala's Wave (Alfred A. Knopf) for nonfiction. Each award carries a $5,000 cash prize.
Third place was awarded to Bobcat and Other Stories by Rebecca Lee (Algonquin Books of Chapel Hill) for fiction and With or Without You by Domenica Ruta (Spiegel & Grau) for nonfiction. Each received a $2,500 cash prize.
Two panels of distinguished literary judges – all of whom have had books selected for the Discover Great New Writers program – selected the winners. Serving as this year's fiction judges are: A. Manette Ansay, Professor of English at the University of Miami, where she teaches in the MFA program, and the author of Good Things I Wish You, Vinegar Hill, an Oprah Winfrey Book Club Selection, and Blue Water, among other books; Carrie Brown, the Distinguished Visiting Professor of Creative Writing at Hollins University, whose books include The Last First Day, The Rope Walk, and Rose's Garden, winner of the 1998 Discover Award; and Charles Yu, a National Book Foundation 5 Under 35 recipient and author of How to Live Safely in a Science Fictional Universe, named one of the best books of the year by Time magazine, Third Class Superhero, and Sorry Please Thank You.
This year's nonfiction judges are: Gail Caldwell, recipient of the 2001 Pulitzer Prize for criticism, and author of three memoirs, New Life, No Instructions (forthcoming), Let's Take the Long Way Home and A Strong West Wind; Andre Dubus III, recipient of multiple awards, including a Guggenheim Fellowship, two Pushcart Prizes and an American Academy of Arts and Letters Award in Literature, and the author of six books, among them Dirty Love, and national bestsellers House of Sand and Fog and Townie; and Paul Elie, author of Reinventing Bach and The Life You Save May Be Your Own, winner of the PEN/Martha Albrand Prize and finalist for a National Book Critics Circle award.