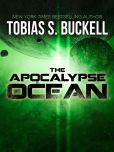 What's a talented writer to do when he's got new stories to set in a thoughtfully imagined world, fans are clamoring for an extension of a beloved series — and the traditional publishing route to continuing the cycle is closed? Just a couple of decades or so ago, the answer to that question would have been simple: slink off into the sunset and develop a serious drinking habit. But nowadays the Internet and the spread of ebooks offers many a route to continued storytelling.

Tobias Buckell recently found himself in just such a dilemma. After three volumes of his Xenowealth series — Crystal Rain, Ragamuffin, and Sly Mongoose — received award nominations and good critical assessments, the series was discontinued, leaving the fourth volume in limbo.

But Buckell did not despair. He instead turned to Kickstarter and his readership for funding that allowed him to write and publish the new installment. That illuminating journey is the subject of an insightful essay at Buckell's website, certainly pertinent to other authors in the same boat, as well as general readers concerned about the future of publishing. But of more interest to lovers of Buckell's fiction is the novel itself, here in hand as either an eBook or in a limited print run.

The Apocalypse Ocean, I'm happy to say, starts off at a gallop, never slows down, and is completely up to the high caliber of its predecessors: a big, thought-provoking entertainment. It conducts a localized adventure with zip and zest, while also opening up the Xenowealth universe to larger consequences. Its appearance is a vindication of all of the faith of Buckell's fans, and the author's own determination.

We open on the island of Placa del Fuego, on the planet of Octavia. Octavia is a backward world in the current galactic ekumen, which consists of forty-eight planets linked by stargates, full of aliens, humans, and odder intelligences. On some worlds, the stargates are being "de-orbited," brought down to reside at sea level. Hence one may literally sail from planet to planet. (A similar eye-popping motif is found also in the series by Robert Charles Wilson beginning with Spin.) Our parallel and alternating viewpoints belong to Kay, a merciless teenage girl, product of genetic engineering, who is a bit more than human and intent on becoming crime lord of Placa del Fuego; and Tiago, a pickpocket in her employ. Kay is intent on putting down an alien rival to her dominance, a strange creature dubbed the Doaq, who bears a destructive black hole in its very mouth. But the Doaq's presence is merely the tip of an invasion wedge, and soon Kay and Tiago are consorting with amped-up superhuman warriors Pepper and Nashara, and fighting for the survival of humanity.

Buckell's short, punchy chapters conspire with his fluid prose and deftly intruded speculative conceits to create a state-of-the-art SF narrative. He devotes equal amounts of time to the complicated human dynamics among his variously psychically damaged protagonists (the back-story detour for Kay is very well done), and to the kind of near-Singularity events (think Stephen Baxter or Greg Egan) beyond their immediate ken, but so dangerously relevant. Harking back to such illustrious predecessors as Jack Vance (The Dragon Masters) and Karl Schroeder (Ventus), Buckell builds both a microcosmically grounded planetary romance and a macrocosmically lofty galactic milieu.

At one point, simple but smart street kid Tiago thinks that "nothing mattered. He had a full belly and a moment of calm." But Buckell's stimulating plan is always to explode such moments of calm, to refine the personalities of his characters in a furnace of war and treachery and cross-purposes. By the novel's satisfying end, no one is unchanged, and the Xenowealth universe is open for big doings. Perhaps some publisher out there is paying attention!
---

Paul Di Filippo's column The Speculator appears monthly in the Barnes & Noble Review. He is the author of several acclaimed novels and story collections, including Fractal Paisleys, Little Doors, Neutrino Drag, and Fuzzy Dice.