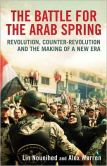 The Arab Spring enters its third year today, the anniversary tied to the first uprising in Tunisia on December 18, 2010. This was sparked by street vendor Mohamed Bouazizi, who had the day before protested against harassment by the authorities — his cart of produce had been confiscated, and he had no bribe money to get it back — by setting himself on fire. By mid-January, Tunisian president Zine El Abidine Ben Ali was out of office; a few days later, protests began in Egypt; at last count, the turmoil has touched or convulsed over a dozen countries in the region.

According to Lin Noueihed and Alex Warren in The Battle for the Arab Spring (2012), any attempt to gain perspective on the series of still-raging events must be preliminary and play catch-up. "Not a single Arab country," begins the first chapter, "made it onto the 2011 list of top global risks issued by Eurasia Group, a multinational consulting firm that helps clients identify looming instability." Noueihed and Warren go on to offer reasons why so many commentators were blindsided, and perhaps shouldn't have been. Atop the latter list is a decade of simmering discontent, much of it attributable to an older, entrenched elite in denial of the "generation-in-waiting" — the 61 percent of the population that is under thirty and often unemployed:
Far from being a sudden awakening, the Arab Spring capped a decade of protest, political activism and media criticism that had laid the ground for more open political systems. Movements against rising prices and unemployment, against corruption and political stagnation, had gained traction in Tunisia and Egypt in the five years before the uprisings. Strikes posed serious challenges to governments struggling to maintain the economic growth that was vital to creating jobs and mollifying the angry and unemployed youth.
If such factors are "The Roots of Rage" (title of the book's first chapter), we are far from final fruit, whether bitter or sweet. Recent events have shown that many of the questions that Noueihed and Warren set themselves — Have corrupt officials and repressive systems truly been overcome? Will those monarchies not already challenged be swept away in a new Spring? What role will Islamists play in the region, and the world? — have only begun to be answered.
---
Daybook is contributed by Steve King, who teaches in the English Department of Memorial University in St. John's, Newfoundland. His literary daybook began as a radio series syndicated nationally in Canada. He can be found online at todayinliterature.com.