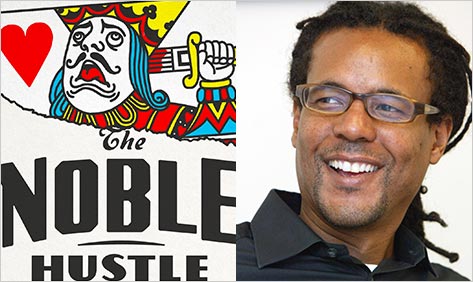 Like Mark Twain's, my friend Colson Whitehead's writing declines to commit itself to any one form, but sprawls easily across them, defying convention, borrowing from genre, always remaining his alone. He has written five novels, a slew of essays — personal, humorous, and cultural, and frequently a blend of all three — and The Colossus of New York, a nonfiction ode to New York City.
He's said that he casually started taking the notes that turned into Colossus before September 11, 2001, and after that day found himself dedicated to the project. For me Colossus still stirs up more than anything else I've read the kind of fiercely protective devotion inhabitants of the city felt at that time, when so many people around the world were mapping their own narratives onto what had happened here. Colossus is seven parts love letter, two parts kvetch, one part satire, and all poetry. It claims the city and it allows you to claim it, too. The voice roves; the perspective shifts; no one is the protagonist. Every change is a fair change to mourn in your own personal New York.
Whitehead's The Noble Hustle: Poker, Beef Jerky, and Death, his latest, is his first book-length work of autobiography, and it too invites the reader — this reader, at least — to identify. Having squandered far too many of my own Saturday nights playing hold 'em in Carroll Gardens, I read it with recognition and delight (and also with relief that our poker circles never overlapped. It's a "male-dominated game," he writes, "where female players often affect an Annie Oakley tomboy thing to fit in." True — and ouch. Never does the long-lost sassy Texan accent of my toddlerhood surface more than when I have cards in one hand and some bourbon on ice in the other.)
I've known Whitehead since I first read his work and sent him fan mail about eight years ago; now he's married to my agent. I am consequently in no way objective, but my enjoyment of this book is genuine. Like Whitehead, I had terrible college relationships during the era of " '90s High Slackitude." I too suffer from an inability to participate in actual sports, owing to a condition I've had since birth ("unathleticism"). I too struggled to do the best job I could at parenting (my beloved stepdaughter turns twenty-one later this year), to do good rather than harm while working within the constraints of a depressive, self-flagellating personality.
The Noble Hustle centers on Whitehead's time competing at the World Series of Poker, an experience funded by the website Grantland, for which he wrote a series of dispatches. The book is about being thrown from a regular friendly home game into the most major of the poker tournaments with only six weeks to prepare. It's about his badass poker coach, Helen Ellis, a novelist who in contrast to us Annie Oakley types identifies herself as a housewife when she competes. ("The dudes flirted and condescended, and then this prim creature in a black sweater and pearls walloped them. 'A lot of people don't think women will bluff,' Helen said. She was bluffing the minute she walked into the room.") It's about cramming: reading strategy, playing at low-stakes tables in Atlantic City, and consulting a physical trainer steeped in the Alexander Technique. It's about major poker tournaments and the ways computer gamers are changing them. But The Noble Hustle was written after Whitehead's divorce, and it's also about loneliness and longing, our attachment to our children and the ways we try to distance and distract ourselves from emotional pain. (At one tournament table, "I hadn't been glared at with such hate by two people since couples therapy.")
When Whitehead and I met up to talk briefly about the book last month, I asked how the process of writing it contrasted with his previous books. "I had to do what I normally do," he told me, "figure out how to fit into what the genre's demanding. I had the article and the article had a voice, had a point of view, a beginning, middle and end, and so the hard part was, two years later, going back an impersonating myself from 2011, having to recollect it, to keep the same voice and the same perspective even though I've moved on and things have changed in my life."
The character he reinhabited, the Colson Whitehead of 2011, was given, he says, to "performative despair" and "absurd jokes" and was trying to figure out how to be a good parent to his daughter. "Hanging out with her and being a single dad" he told me, was the "psychological backdrop" of that period of his life. Writing The Noble Hustle meant having to reenact that time on a bigger scale.
"The really exhilarating parts, like the time at the World Series of Poker, were already done" when he started writing. He was left with the "pick-and-shovel work of explaining poker to laypeople, creating a more linear chronology," slowing down the action, and looking back into his past, to his college days, his first trip to Vegas, his early years playing poker with pals who dreamed about success as writers and artists, and in his later years playing with these same buddies — now successful but still fundamentally the same dreamers.
As with most good books about games, the real subject of The Noble Hustle is one that seems to be on the story's periphery: fatherhood. Whitehead's daughter is a major presence throughout the book, mostly through his thinking of her in her absence. "My ex-wife and the kid were upstate, engaged in holiday-weekend goodness. Here I was acting as if I had nobody," he writes, of a practice jaunt to Atlantic City. On rejecting Grantland's initial offer to send him to the WSOP to report from the sidelines after just having mastered "the rules of solo parenthood": "It was a hard job, tracing a safe route through the minefield of face-painting, peanut-free caroling, and assorted pony bullshit that would get us safely to dinnertime and the organic hot dogs. A trip to Las Vegas would cut into our summer hang, which I'd come to idealize." His greatest regret as he gears up for the big game: "I left for the World Series of Poker without hugging the kid one more time."
In my reading, his daughter, and the force of his love for her, are this oblique memoir's secret, surprisingly tender heart. Whitehead calls himself an Anhedonian, a good poker player because he's "half-dead inside," but don't be fooled: he's all in.