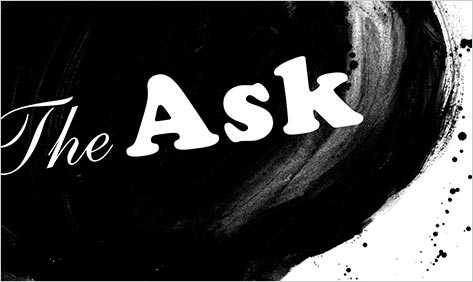 Sam Lipsyte is a master of erudite, equal-opportunity loathing, a desolating humor populated by characters blighted by the world. Home Land — his last novel — was one of the funniest books of the last two decades. It was so raucously good, many will think that any follow-up is destined to fail. But The Ask's precarious position between total success and not living up to expectations is a result of Lipsyte's expanding vision — from Home Land's small-scale intimacies to the end of the financial world as many have known it. The terrible massiveness of this vision has to be confused and strange and just as miserable as it is funny because the failure of Lipsyte's Western world is epic and unstoppable.
The Ask features Milo Burke, a development officer for the arts program at a "mediocre" New York university. Burke's caustic wit fuels hilariously profane and misogynist office banter with his jaded co-worker Horace, but his self-hatred (he wished to be a painter, his unfaithful wife is "all touched out," he's got a 3-year-old son who thinks he's a "pansy") and class resentment (just one element in his cornucopia of socio-political rage) make him horrendous at his job. While his colleagues bring in gifts of "endowed chairs, editing suites, sculpture gardens," Burke offends the Jewish ancestry of his last "ask" and fails to get a meager collection of plasma TVs.
Milo is a glutton for punishment, and the book opens with one of the only moments where he actually reacts to being mistreated. Fired for snapping at the entitled art-student-daughter of that potential TV donor, he has been left without work, health insurance for his family, and purpose. When his former boss contacts him unexpectedly and offers him his job back on the condition of a particular ask, Milo jumps at the offer even though he hates the job. The target of the ask, Purdy Stuart, was a rich kid who Milo partied with in college but whose family wealth split their post-graduation paths, a frenemy "who had powers of cajolement, a gentle quasi-Christ-y authority." Purdy purports to want to donate to the university on behalf of his wife, but he admits to Milo that his giving is really about covering up the fact of his illegitimate son. Milo reacts to the moral dilemma that Purdy's proposition thrusts upon him by surfing the web, ruminating on "how sick and marvelous an age this was" where anyone could be "a Newton, a Diderot."
But no matter how Milo tries to ignore his problems, he can't escape his life. The bottom can drop out of any of Lipsyte's moments: "All was peachy and near utopic until I rose for a beer. At that moment the knowledge just disappeared, tilted out of my earhole." And then Milo begins to whir, riffing away, deeper, more lost: "I'd have to start again, or else concede my memory palace was a panic room. It would be good to exile some items and sensations, some people, even, but how to cull? I could not spare one hamburger or handjob."
From here, The Ask documents Milo's powerlessness in a world where money is the acknowledged measure of love, status, family, compassion, and art, even as the book's seams stretch taut and almost break. Instead of slowing the narrative to face some of the cultural volatilities The Ask sets in motion, Lipsyte gives us too much of Milo's navel-gazing. And so what should be an astonishing climax (a scene in which Milo expresses sincere love and worry for his son) is only a flash of bright light in the darkness of a looming alley as the book races toward closure.
These missteps in pacing are nearly erased by Lipsyte's genius and dexterity. The Ask is alive with lexical cartwheels, laced with the jittery eroticism of pornographic fantasies: "I had already begun to picture my cock in high quiver, sliding up the lubed swell of her chest. We were in a library of lacquered wood. Viola tones rose from a carved alcove. Baby oil beaded on rare folios." Lipsyte's imagination is profane in the best and worst of ways; the few times his rocket-fueled prose fails to be funny it reads like overly scripted slapstick or bad standup. There's more pain and dread than in his previous novels, but Lipsyte once again delivers whipsmart dialogue and slightly cartoonish protagonists, men and women whose inflated oddities act like blinking neon signs. All of his characters are catastrophes.
But what is most remarkable about The Ask is how Lipsyte has grown and enlarged his target. In doing so, he has found another way to make us grin wildly at someone's refusal to succeed. In fact, he can be so comical that the laughter that Lipsyte elicits sometimes allows us to forget that he's one of our best documentarians of the crumbling myth of the American Dream.
---
Alex Lemon is the author of Happy: A Memoir and three poetry collections, most recently, Fancy Beasts.