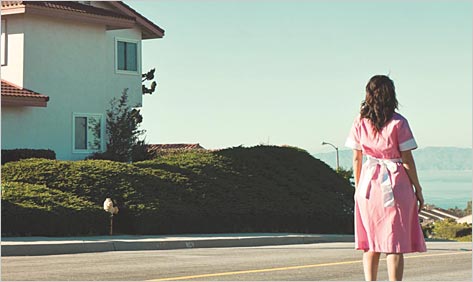 Some novels are so teeming with energy they seem to contain whole cities. Noisy, beautiful, irritating, pulsing planets full of immigrants and original sons and daughters: hucksters, winos, wisenheimers, and lost souls. Without the dimension added by these imaginary communities, our real metropolises would be impoverished, reduced to their simplest myths and glossiest images.

No city in America has needed such a book quite like Los Angeles. Its long boulevards and metal-gated shotgun houses, its water thieves and hustlers and Mexicanos have been occluded in fiction. Héctor Tobar's second novel, The Barbarian Nurseries, brings them all beautifully into view in a book so big you can get lost here. It tells a grand story, bulging with dozens of minor characters and one unforgettable heroine.

At the center of the family is not a mother or a father but a Mexican live-in domestic named Araceli. She works six days a week for $250 for the Torres-Thompson family, cooking, cleaning, and watching over their three children. Araceli was once one of several illegal immigrants from Mexico working in the home. Now, with Scott Torres's investments tanking and his wife, Maureen, determined to continue as if nothing has changed, Araceli's daily burden has become immense.

But her role balloons one morning when she wakes to discover that after an explosive argument both Scott and Maureen have fled their home, leaving Araceli alone with the two Torres boys. She waits, she frets, and then, when it seems they have been abandoned, she packs a bag and sets off on foot with the two boys in tow, in search of their Mexican-American grandfather. All she has is an old photo of the old man and an idea of where he used to live.

Araceli's bold move will later prove devastating for her and the Torres-Thompson family, but it is the moment when The Barbarian Nurseries begins to soar. Like Odysseus' endless journey home, Araceli and the boys' trek across town is full of strange and almost mystical encounters. They travel through the wasteland of Los Angeles' rail yards, its hauntingly decayed Union Station. They are taken in for a night by a Salvadorian woman and spend July 4th at a posh barbeque in Huntington Park, surrounded by young women with perfect American accents who attend Ivy League schools.

Tobar, who won a Pulitzer Prize in reporting for the Los Angeles Times, has a prismatic, relentless eye for the many layers of American-ness at work in the O.C., often within the same person, and uncomfortably so. The man hosting the barbeque looks down upon his fellow immigrant neighbors, who have not yet saved enough to buy their own homes. A Mexican-American border guard, whose story threads briefly though the novel, finds no contradiction between his background and his job.

Reporters who write novels are often a little heavy-handed with themes, and Tobar is guilty of this throughout The Barbarian Nurseries. But he is so confident in his ability to enter his characters' minds that this leftover scaffolding falls away, again and again. While Araceli marches across town, embracing a responsibility she never wanted, Tobar tracks Scott and Maureen in their respective flights from responsibility. Scott holes up at a co-worker's house and plays video games for two days; Maureen goes to a spa.

As awful as their negligence sounds, Tobar spends such a sizable section of the novel's opening depicting Scott and Maureen's parental and financial exhaustion that one almost understands their instincts for self-pampering and escape. Araceli might be rescuing the boys, but she is no saint, either. One of her petty vanities is intellectual pretension. Even while people are helping her — and later defending her — she judges their fashion, their accents, even their cooking.

In the novel's closing pages, Maureen and Scott finally return home, discover the children missing, and file a missing persons report, turning their private drama into a public one. The media frenzy over the mangled and manipulated story of the maid who left with the children — maybe fleeing for the border! — provides enough accelerant to bring this huge story to a roaring climax. As readers we are at once voyeurs and participants. We know why Araceli left, and we've witnessed what the boys have seen. It is their Los Angeles, the city that has been all around them and invisible, until now.