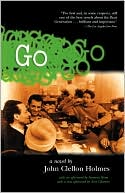 John Clellon Holmes published "This is the Beat Generation" in The New York Times Magazine on this day in 1952. His article contains the first print use of the term "Beat Generation," and his novel Go, published earlier that year, is regarded as the first Beat novel. While the novel was semi-autobiographical, based on Holmes's friendships to Kerouac, Ginsberg, and others, the article was a sociological profile aimed at an increasingly curious and alarmed public. The profile contained the reassurance that although the "wildest hipster" enjoyed "bebop, narcotics, sexual promiscuity, hucksterism and Jean-Paul Sartre," he had "no desire to shatter the 'square' society in which he lives, only to elude it." Also, he was but a child of his time:
Their adolescence was spent in a topsy-turvy world of war bonds, swing shifts, and troop movements. They grew to independent mind on beachheads, in gin mills and USO's, in past-midnight arrivals and pre-dawn departures. Their brothers, husbands, fathers or boy friends turned up dead one day at the other end of a telegram. At the four trembling corners of the world, or in the hometown invaded by factories or lonely servicemen, they had intimate experience with the nadir and the zenith of human conduct, and little time for much that came between.
Jack Kerouac appeared on The Steve Allen Show on this day in 1959, introduced by his host as the author of On the Road and "the embodiment of the Beat Generation." Though clearly uncomfortable to be sitting by Allen's piano and answering his "square" questions, Kerouac played to the myth making, claiming that he wrote his novel in three weeks. He then read from it, and from the as yet unpublished Visions of Cody, this passage seeming to poke fun at the 'messiah' role he had been given:
At the junction of the state line of Colorado, its arid western one, and the state line of poor Utah I saw in the clouds huge and massed above the fiery golden desert of eveningfall the great image of God with forefinger pointed straight at me through halos and rolls and gold folds that were like the existence of the gleaming spear in His right hand, and sayeth, Go thou across the ground; go moan for man; go moan, go groan, go groan alone go roll your bones, alone; go thou and be little beneath my sight; go thou, and be minute and as seed in the pod, but the pod the pit, world a Pod, universe a Pit; go thou, go though, die hence; and of Cody report you well and truly.
---
Daybook is contributed by Steve King, who teaches in the English Department of Memorial University in St. John's, Newfoundland. His literary daybook began as a radio series syndicated nationally in Canada. He can be found online at todayinliterature.com.