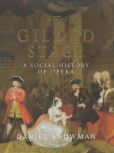 On this day in 1728 John Gay's The Beggar's Opera opened in London. The musical's satire and singability made it a first-run sellout, a cultural craze across England, the most produced play of the eighteenth century, and the original "ballad opera," first in the Gilbert and Sullivan line. Within the first week one London paper was reporting "a very general Applause, insomuch that the Waggs say it hath made Rich [the theater manager] very Gay, and probably will make Gay very Rich." The politicians smarted at being portrayed as highwaymen and pickpockets deserving of confinement in Newgate Prison; the public bought playing cards, fans, and parlor screens imprinted with scenes or lyrics of the dashing MacHeath and of Polly Peachum's gallows love for him. The craze went beyond kitsch when William Hogarth, a friend of Gay's, painted an Act V scene from the play. The painting is now in the Tate; a detail from it appearss on the cover of Daniel Snowman's The Gilded Stage (2010).

Over the centuries, enthrallment with The Beggar's Opera has never waned. A 1920 London production ran for 1,463 performances, inspiring Brecht and Weill to remake it as The Threepenny Opera, which made Lotte Lenya a star and eventually gave Bobby Darin his signature tune: "Oh the shark has pretty teeth, dear / And he shows them pearly white.…"

Snowman's book, subtitled "A Social History of the Opera," explains how much of the popularity of The Beggar's Opera derived from its reformist agenda. Jonathan Swift, another of Gay's famous friends, first proposed the idea of a lowlife opera. Swift was composing A Modest Proposal about this time, taking his own slap at a ruling class so lost in privilege that they took seriously his plan to improve social conditions by selling the children of the poor. Gay added another level, making his satire a slap at both privileged politics and Italian opera — the kind of music the upper classes enjoyed, or enjoyed being seen at. The street life and street tunes in The Beggar's Opera represented a music hall revolt against pervasive snobbery.

The Beggar's Opera became the first documented musical performed in New York. The 1750 show ran for months, indicating that its message played well in pre-Revolutionary America.
---
Daybook is contributed by Steve King, who teaches in the English Department of Memorial University in St. John's, Newfoundland. His literary daybook began as a radio series syndicated nationally in Canada. He can be found online at todayinliterature.com.