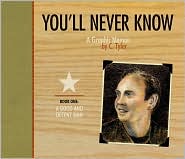 You'll Never Know, Book 1: A Good and Decent Man
C. Tyler
Tyler is a cartoonist who was trained as a painter first, and her memoir of learning about the World War II experiences that permanently changed her father leads with its indelible, majestically composed images. Compassionate but unsparing, this first of a projected three-book series tells one soldier's story in the context of his generation's silence.
David Mazzucchelli
This is probably the most ingeniously constructed graphic novel ever published. In Mazzucchelli's grandly arch, grandly arching fable about a grandiose architect who's never made a building, absolutely every formal detail — drawing style, lettering style, color scheme, you name it — has thematic resonance, right down to the colors of the stitching on its spine.
Grant Morrison et al.
Morrison's fantasia on a theme by Jack Kirby is as awesome and as over-the-top as superhero comics get: mind-blowing metafictional sci-fi that moves so fast you practically have to study it to hold on to the plot. It's a cosmic-scale thriller that makes an argument for superhero stories themselves as a defense against the end of the world.
Gilbert Hernandez
Fiery, wildly raunchy, deliriously complicated, and bubbling over with life, Hernandez's epic about three half sisters and their extended family zooms wherever the hell he feels like going for 600 riveting pages. He's got a phenomenal sense of body language — you can tell almost everything about his characters just by looking at them — and the absolutely assured weirdness of a born raconteur.
Emmanuel Guibert, Didier Lefèvre and Frédéric Lemercier
The French photojournalist Lefèvre went to Afghanistan with Doctors Without Borders in 1986, took pictures of the extraordinary things he saw there, and barely made it back alive. Guibert has turned Lefèvre's experiences into comics, with photographs integrated into the flow of nearly every page — a striking way of representing personal history wrapped around reportage.
Honorable Mentions:
Joshua Cotter: Driven by Lemons
Darwyn Cooke: Parker: The Hunter
Gabrielle Bell: Cecil & Jordan in New York
Bryan Lee O'Malley: Scott Pilgrim Vs. the Universe