David Small
A cloud of dread mixed with sadness and horror hangs over this ferociously affecting graphic memoir. Illustrator David Small—who suffered a cancer that was radically "treated" when he was a teen—suffered even more from the byzantine family dynamics of anger and repression that are detailed through his inimical pen-and-ink-wash drawings. His life story is, truly, unbelievable; and yet he makes you believe—in the possibility of life after a living death.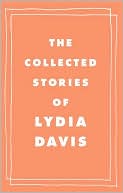 The Collected Stories of Lydia Davis
Lydia Davis
Does Lydia Davis write fiction? Well, yes. Sometimes. Does Lydia David write nonfiction? Many of her "stories" are simply sliced cleanly from her life, yet utterly transformed by the cut. They are true in the way that a photograph is true: the concrete framed and thus made art. But whatever you want to call it, Davis bounds over genre lines with a mighty leap of genius. Her work is sui generis, and to have it all collected in one volume is all the proof one needs that Santa is real.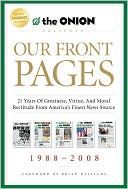 The Onion Presents Our Front Pages 1988-2008
They call it "America's finest news source"; it is certainly America's funniest. This humor paper's lacerating, sardonic take on our foibles and our politics (which is which?) is so spot-on that this collection should bear a warning about stomachaches from laughing too hard. "Bottom of Barrel Dangerously Overscraped, Experts Warn"; "Horribly Awkward First Sexual Encounter 'Worth the Wait' For Christian Newlyweds"—these are from the same front page. And there are three hundred more where that came from. Absurdism at its very, very finest.
Provenance: How a Con Man and a Forger Rewrote the History of Modern Art
Laney Salisbury and Aly Sujo
This tale of how a consummate con artist and his dupe scammed some of the world's best galleries and collectors—with pieces so good that some of them are still taken as the real thing—is a fast-moving read that combines a great depth of investigative reporting with a New Journalism approach. Together it makes for narrative nonfiction tinged with the psychological astuteness of a novel—but this is no forgery.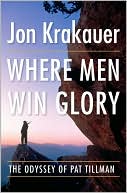 Where Men Win Glory: The Odyssey of Pat Tillman
Jon Krakauer
I feel almost apologetic suggesting a book that barely needs to be brought to anyone's attention, stuck smack in the middle of the bestseller billboard as it is, but every once in a while a book actually deserves to be there, and this is one (as is, justifiably, every one of the author's works). Krakauer is full of righteous indignation about how the Bush administration hijacked the friendly-fire death of NFL star Pat Tillman in Afghanistan in 2004. He tells the story with fierce propulsive force, and by the end, it is impossible not to share his anger, as well as his deep respect for a young man of principle, who should never have died. Especially like this.