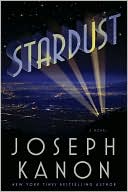 Joseph Kanon
Kanon's latest is as good as anything he's done, including the Edgar-winning Los Alamos. It's about a young man, Ben Collier, son of a famous German director, who has just returned to the U.S. in 1946 from service in the Signal Corps in Europe. Ben travels to California after his sister-in-law tells him that his director brother, Danny, has suffered a serious fall from a hotel window. Was it an accident? A suicide attempt? After Danny dies, Ben begins to suspect that someone pushed Danny out the window and turns amateur detective to identify the culprit. Toss in the Hollywood German Colony and a part Danny was playing in a congressman's anti-communist crusade against the film industry, and you've got one of the year's best.
Timothy Hallinan
I used to think that John Burdett's terrific books (Bangkok 8, Bangkok Tattoo, Bangkok Haunts) about Royal Thai police detective Sonchai Jitpleecheep, the only practicing Buddhist on the police force, were all I needed to know about the darker, sadder side of that popular tourist site. Then I began to read Hallinan's books about American travel writer Poke Rafferty, who lives in Bangkok with his Thai wife, Rose, and their adopted daughter, who calls herself Miaow. Last year's The Fourth Watcher was his best yet — but his new one, Breathing Water, tops it.
Stuart Neville
Just when you thought the invasion of excellent Irish crime writers — a group nicknamed Gaelic Noir — had ended, along comes Stuart Neville with his first novel. Its central character, Gerry Fegan, is a former IRA "hard man," a killer in Northern Ireland, now reduced by the coming of peace to a shambling drunk haunted by the ghosts of 12 victims who follow him everywhere. The only way that Fegan can kill off his ghosts is by tracking down the IRA superiors who ordered their deaths. This he does with violent precision, one by one, until he is alone again. Along the way, Neville condenses the fear and hate that troubled Ireland for so long, at the same time skillfully creating a memorable character with a cool, deceptively straightfoward writing style.
Bryan Gruley
Gruley is the Chicago bureau chief for The Wall Street Journal, but don't expect any business secrets in his smashing debut thriller. He has either played or is obsessed with the lower depths of amateur hockey; is as familiar with the backwaters of Michigan as he is with his computer keyboard; and knows how to drag you kicking and screaming into a story so gripping that you'll probably devour it in one gulp — like the heavenly sounding egg pie served at Audrey's Diner. "Cheddar cheese and scrambled eggs bubbled up through a golden cocoon of Italian bread…. Steam billowed from the sausage, bacon, potatoes, green peppers, mushrooms and onions baked inside…."
Megan Abbott
Nobody combines historical fact with bravura fiction the way Megan Abbott does. In The Song Is You, she took the real story of a young Hollywood starlet who really existed: Jean Spangler, a sexy-longlegs who disappeared one night and was never seen again. The papers called her Daughter of Black Dahlia, connecting Spangler to another notorious disappearance. The true parts of Bury Me Deep are based on another case that filled the tabloids in 1931, when a young Hollywood woman named Winnie Ruth Judd — labeled Trunk Murderess, Tiger Woman, and Blonde Butcher — gave herself up, saying that sexual jealousy had caused her to kill two of her female friends and dismember their bodies, after which she packed them into two trunks and shipped them to Phoenix.
Runners-up:

Palos Verde Blue, by John Shannon
The Hidden Man, by David Ellis
Damnation Falls, by Edward Wright
Last Known Address, by Theresa Schwegel
Await Your Reply, by Dan Chaon
The Financial Lives Of The Poets, by Jess Walter
The Girl Who Played With Fire, by Steig Larsson
Roanoke, by Margaret Lawrence
Bruno, Chief Of Police, by Martin Walker
Below Zero, by C.J. Box
Dark Dreams, by Michael Genelin
Risk, by Colin Harrison
The Silent Hour, by Michael Koryta
Spade & Archer, by Joe Gores