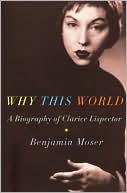 Snitching, Criminal Informants and the Erosion of American Justice
Alexandra Natapoff
It's certainly not a shattering insight, and one that must have occurred to anyone devoted to crime fiction and film noir. But recently running an imaginary inventory of the crime novels I have read and the films I have watched, it occurred to me that all the fancy police work and investigation depicted was a matter of running down informers and, at least in the old days, perfecting very unscientific techniques such as smashing a pair of phone books against the sides of someone's head. I counterpoise that to very popular series like CSI and books based on sophisticated forensic science, which have always been a subgenre of mystery writing. Well, I had the question, and in this very serendipitous (for me) year in books I found the fascinating book Snitching, which is hot off the press. Of course the rat, the grass, the informer have always been among us, and Alexandra Natapoff makes clear that informers are a vital part of any justice system, especially in the pursuit of organized and white-collar crime. Her concern is to show how pervasive, and growing, the system really is, and to document its proneness to overuse, inherent corruption, evasion of standard rules of evidence, and lack of oversight. She shows how the most serious criminals often go free and are never tried, and how poor communities are divided and demoralized when snitching pervades local drug markets involving low-level dealers and users — not to mention much outright falsehood and manufacturing of evidence, especially in prisons. It's a truly eye-opening book and a fascinating look at how much police work depends on a system no one wants to talk about, as ironic as that may be. I can't imagine anyone devoted to police procedurals wouldn't find it engrossing — and not a hair follicle stuck in a window with a DNA map in sight.
Jacques Tardi, Jean-Patrick Manchette
I wish we could say that the incomparable French draughtsman Tardi — not only an artist but also the author of distinguished body of work — literally teamed up with one of France's finest writers of le nouveau roman noir (so called because Manchette was instrumental in creating a new face for the traditional roman noir, which was running our steam). Sadly, Manchette died in 1995, so there will be no joint creations; but Tardi has very impressively illustrated Manchette's novel Le Petit bleu de la côte ouest (in turn published by City Light Books as Three to Kill). Manchette has received little attention in the United States, though one hopes that is about to change. One wonders if it has something to do with his extreme leftism (he was a devoted reader of Guy Debord and the Situationists). But there is nothing didactic or weighty in Manchette; a critique of consumer capitalism emerges from the story itself and not the reverse, and it's ultra-cool on the surface –- though he did believe very seriously that crime fiction was the moral literature of our times. And he translated Watchmen into French, no less.
Mati Unt
Almost all the biographical and critical studies of Bertolt Brecht tend to be a dismal business. Especially the biographies: the axes are still too sharp, and most people who get to know Brecht in that homey fireside way end up disliking or even hating him — and it really gets personal. Not to go in to the biographer's business (objectivity and such?), but these people can't seem to help themselves. It comes down to that fact the B.B. was a pretty slippery fellow, unsentimental, realistic, cunning, and always on the lookout for the main chance. In short, not a great subject for biography but a perfect protagonist for fiction, which since the 18th century has overflowed with such scoundrels. Brecht thought of himself as a sort of Confucian dialectician; that came down to accepting the Confucian mode of integrity, speaking the truth to a ruler, but not if it would get you killed. The dialectician knows there are always ten versions of the truth, but "power" decides what is what.
A very fine novel came out a couple of years ago: Brecht's Mistress, whose author, Jacques-Pierre Amette, is very adroit at loosening the bolts holding up the Brechtian facade, happily revealing more facades beneath.
Now comes Brecht at Night by a supremely talented Estonian writer, essayist, and all-around cultural impresario, Mati Unt. For lack of anything better call it a documentary novel that takes place at the curious point where Brecht was seeking asylum in Finland at the beginning of World War II, on his way to the USA (where he hated the bread and ran into Thomas Mann far too often). The whole point is that he never considered the USSR — he was no fool. Brecht is at the center, but the great fun of the book is Unt's digressions on Finland, Estonia, the war, and his own experiences. By this route he ponders the question of whether Brecht was ever really aware of his surroundings beyond his place in them. Unt's own reflections have a lot to say about living and creating under the thumb of evil and foreign regimes – he has the lay of the land. He underlines the point of all the evasions; Unt was a survivor, and so was Brecht — perhaps the master of survival. And, strangely, this is what seems to make the "scholar" indignant.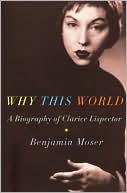 Why This World: A Biography of Clarice Lispector
Benjamin Moser
Every so often, a book seems to fall from heaven into your hands. Such is the case with this biography of Clarice Lispector, which I really did stumble upon in a bookstore. My first feeling was shock that anyone had written a book about her in English and it had been published. Of course, it's not that she is unknown; several of her books have been published in English and most seem to stay in print, but I would wager that she is one of the least known of the 20th century's great writers and in some ways the most mysterious – mysterious like Kafka or here fellow writer in Portuguese, Fernando Pessoa. Milan Kundera speaks of the problem of writers who write in minor languages — in this case, Brazilian Portuguese — so that many of us, myself included, only know Lispector at second hand.
Lispector led an extraordinary life, as a beauty in the mode of Greta Garbo who wrote fiction with the intellectual depth of a thinker such as Heidegger, in a prose of pulsating immediacy. Born in Russia but fiercely committed to her Brazilian identity, she ended her days as an icon in her home country. Benjamin Moser has written a brilliant, extraordinarily well researched, philosophically profound, and beautiful work that does full justice to its subject. There were moments when I was so overwhelmed that I almost felt unworthy of reading it.
Lispector is the author of what may be my favorite quote, a snippet from the "Cronicas" she wrote for a daily paper, in a unique form that could be a story, a meditation, a lightning bolt of introspection, or a humorous anecdote.
YES
I said to friend:
– Life has always asked too much of me.
She replied:
– But don't forget that you also ask too much of life.
That is true.
As Michel Foucault said in a different context: "That is it, there is nothing more to say."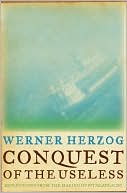 Conquest of the Useless: Reflections from the Making of Fitzcarraldo
Werner Herzog
Watching Werner Herzog's hallucinatory film Fitzcarraldo reminds me of the proverbial expression "If you remember the '60s, you weren't there." If you remember seeing the film when it was released, you really hadn't seen it, then or later. And that could merge in your mind with the documentary about the making of the film and with Herzog's own film about his longtime friend and alter ego, Klaus Kinski, who brought to life so many of Herzog's mad visionaries on useless voyages to an impossible absolute. And now comes a book based on the semi-legendary journal Herzog kept while making the film, with fascinating revelations of what was clear all along: that alongside the truly mad Kinski playing Herzog's madmen you have this uncanny fellow Herzog, who combines an almost unbelievable pragmatism with what can only be called megalomania. Humility and hubris in constant war — very little is neutral in this world. Herzog loves the jungle and he also hates the jungle; everything becomes the object of a grasping fascination.
The film and Herzog's book about it exist outside the realm of success or failure, of obstacles met and overcome — in the end, with the book we simply come to know it all too well. The distance that makes perception possible is annihilated – we are all finally useless.
HONORABLE MENTIONS:
Mozart's Third Brain by Goran Sonnevi
L.A. Noir by John Butin
The Kindly Ones by Jonathan Littell
Sandokan by Nanni Balestrini
Pariah by Dave Zeltserman
The White War: Life and Death on the Italian Front 1915-1919 by Mark Thompson
Poinsonville by Massimo Carlotto & Marco Videtta
The Mystery of the Rosary by Nathan D.Mitchell
Searching for Cioran by Ilinca Zarifopol-Johnson
The Present Alone is Our Happiness by Pierre Hadot
The Complete Lyrics of Johnny Mercer by Robert Kimball & Johnny Mercer
The Twins by Gerbrand Bakker
Low Moon by Jason
The Tanners by Robert Walser
The Skating Rink by Roberto Bolaño
Morandi: Master of Modern Still Life by Flavio Fergonzi