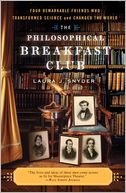 The English astronomer John Herschel was born on this day in 1792. Apart from his original work in astronomy, Herschel made contributions to mathematics and chemistry and invented several new processes of use in photography. But as Laura J. Snyder describes in The Philosophical Breakfast Club (2011), Herschel's place in science history is based on more than his specific accomplishments. While still students at Cambridge, Herschel and three of his distinguished friends — the mathematician Charles Babbage (father of the computer), the political economist Richard Jones, and the polymath William Whewell — held regular Sunday morning breakfast meetings at which they began to discuss the state of scientific study. The group stayed close throughout their careers; by the time the last two of them died in 1871, says Snyder, the career of "scientist" (a term coined by Whewell in 1833) had been transformed from a gentleman's avocation to a rigorous and specialized profession:
They were widely and classically trained, readers of Latin and Greek, French and German, whose interests ranged over all the natural and social sciences and most of the arts as well, who wrote poetry and broke codes and translated Plato and studied architecture, who pursued optics simply because, as Herschel said, "Light was my first love," who conducted the experiments that struck their fancy, based on the chemicals and equipment they happened to have on hand, who measured mountains and barometric pressure while on holiday in the Alps and observed the economic situation of the poor wherever their peripatetic wanderings took them. Babbage, Herschel, Jones and Whewell are a strange breed: the last of the natural philosophers, who engendered, as it were with their dying breath, a new species, the scientist.
If not a household name during his day, Herschel gained some notoriety through "The Great Moon Hoax," perpetuated by the New York Sun newspaper in 1835. This was a series of articles purporting to describe Herschel's wondrous telescopic observations of life on the moon — forests, seas, a tribe of biped beavers, a race of winged "man-bats" living in pastoral bliss. The story was picked up internationally and became the subject of debate for a time. Edgar Allan Poe said that the hoax caused him to set aside the fantastical story he had been writing, it not being far-fetched enough for such a gullible public.
---
Daybook is contributed by Steve King, who teaches in the English Department of Memorial University in St. John's, Newfoundland. His literary daybook began as a radio series syndicated nationally in Canada. He can be found online at todayinliterature.com.