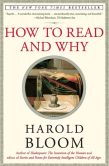 Harold Bloom was born on this day in 1930. That Bloom belongs to "a singular breed of scholar-teacher-critic-prose poet-pamphleteer" (Sam Tanenhaus, The New York Times Book Review) seems clear from almost any page of his dozens of books and his literary journalism. Only a few paragraphs into The Anxiety of Influence, a book about "Literature as a Way of Life," he is already feisty and far afield:
Twenty-first-century America is in a state of decline. It is scary to reread the final volume of Gibbon these days…. We have approached bankruptcy, fought wars we cannot pay for, and defrauded our urban and rural poor.… If we are a democracy, what are we to make of the palpable elements of plutocracy, oligarchy and mounting theocracy that rule our state?
Far from making apologies for connecting literature to life, Bloom passionately advocates that we all do the same, using books to engage, as Samuel Johnson put it, "with what comes near to ourself, what we can put to use." But not just any books — say, those of J. K. Rowling or Stephen King, both of whom Bloom has famously trashed. Instead, says Bloom in How to Read and Why, "read deeply" and for a variety of better reasons:
[T]hat we cannot know enough people profoundly enough; that we need to know ourselves better; that we require knowledge, not just of self and others, but of the way things are. Yet the strongest, most authentic motive for deep reading of the now much-abused traditional canon is the search for a difficult pleasure.
As a champion of the traditional literary canon and a critic of a modern syllabus too often driven by "the cant of ideologues" and "the cheerleading of an academic sect," Bloom expects and seems to enjoy controversy:
I realized early on that the academy and the literary world alike — and I don't think there really is a distinction between the two — are always dominated by fools, knaves, charlatans and bureaucrats. And that being the case, any human being, male or female, of whatever status, who has a voice of her or his own, is not going to be liked.… Since I am convinced that literary criticism is a purely personal activity, that it has exactly the same status as lyric poetry or narrative writing, why should I care about the personal response to it, one way or the other? Praise or blame, alike, is beside the point.
---
Daybook is contributed by Steve King, who teaches in the English Department of Memorial University in St. John's, Newfoundland. His literary daybook began as a radio series syndicated nationally in Canada. He can be found online at todayinliterature.com.