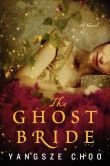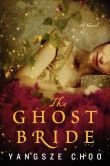 Dear Reader,
It's a truth universally acknowledged around our office that the Discover selection committee readers love a great coming of age story — and in fact our entire Fall 2013 list is made up of coming of age stories, both fiction and non. The Ghost Bride is one of the most mesmerizing iterations of the classic trope — young woman marries to secure her family's future — that we've seen recently, because in this case, the young woman is married to a dead man, and journeys through the afterlife in the company of elusive and enigmatic guides in order to make her way in this world.
Yangsze Choo discusses Chinese literary traditions, why she was drawn to write about the overlap between everyday life and the supernatural, and the parallels between 1890s colonial Malaya and Jane Austen's world, among other things, here on the Discover blog.
The Ghost Bride centers on a girl who marries the ghost of a wealthy family's recently deceased son. Can you please explain the concept of a "ghost marriage"? When did you first become intrigued by this practice?

I think I was vaguely aware of this practice as a child. My grandmother lived in a small town in Malaysia opposite an old cinema that often showed scary Chinese movies. We children were not allowed to go and watch them, although from the front window we could see people lining up to go in. I remember the gigantic cinema posters that would cover the billboard in front. In those days, they were all hand painted so that they looked even more lurid – both fascinating and forbidden to us!

The folk tradition of marriages to ghosts, or between ghosts, usually occurred in order to placate spirits or repair familial relations. There are a number of allusions to it in Chinese literature, but its roots seem to lie in ancestor worship. Matches were sometimes made between two deceased persons, with the families on both sides recognizing it as a tie between them. However, there were other cases when a living person was married to the dead. These tended to be the fulfillment of a dying sweetheart's wish, or to give the rank of wife to a concubine who had borne a son. Sometimes, an impoverished girl was taken into a household as a widow in order to perform the ancestral rites for a man who died without a wife or descendants. This is the case for Li Lan, the main character in my book.

More recently, however, one of the things that sparked this novel was a sentence in an old newspaper article. While researching another book I was writing, I happened to go through the archives of our local Malaysian newspaper and found a brief mention of spirit marriages that offhandedly declared them "increasingly rare." At first, I wondered what this referred to, and then I realized that it must be the folk superstition of marriages to the dead. This was so intriguing that I ended up putting aside my first book to write this one instead.

The Ghost Bride delves deeply into the complex world of the afterlife as it's understood in Chinese culture. In what ways does this supernatural element compare to fantasy, and in what ways is it different?

There's a long Chinese literary tradition of tales set in the blurred borderline between spirits and humans, where beautiful women turn out to be foxes, and the afterlife is run like a monstrous parody of Imperial Chinese bureaucracy. When I was a child, I loved reading such stories and was always intensely curious, imagining if these things actually happened. How would you feel if the pretty girl you picked up had no feet, or the palace you visited was actually a beehive?

In this sense, it is fantasy. A very rich and curious Chinese mythology that I'd love to introduce readers to. In fact, when I was growing up, there were lots of old comic books about swordsmen who could fly, had amazing powers, and battled with deities. I don't know where these comics came from – possibly Hong Kong? They were thin, cheaply printed, and had black and white illustrations of old fashioned scholars and heavenly maidens. The ink came off on your hands and had a distinctive smell. I remember struggling to read the more complicated Chinese characters, and even painstakingly looking them up so that I could continue the story. My textbooks at school were never as interesting!

At the same time, my book is also concerned with how these supernatural beliefs are part of the everyday life of the characters. The Chinese concept of the afterlife, with its elements of Buddhism and Taoism mixed with folk religion, is taken quite seriously and still practiced today. For example, the burning of paper effigies as offerings to the dead, and the idea that the afterlife still requires pocket money, cars, and even modern day offerings such as paper iPhones and Gameboys. On a recent trip to Singapore, I noticed that there were even paper replica chickens sold in sets of three and realistically rendered so that you could tell what flavors they were (plain boiled, soy sauce, and roast).

How is The Ghost Bride similar and/or different from the stories you were told when you were young?

Most of the classic Chinese literary stories about ghosts are actually about young men, usually scholars, to whom all these strange things happened. The archetype would be "Once, there was a poor scholar, who was studying alone at night when there was a knock on the door…" Of course, he opens it to find a beautiful girl who turns out to be either a ghost, a fox, or a flower spirit. All sorts of trials ensue, usually with the not-so-subtle warning that you shouldn't be tempted away from your studies!

In my case, I wanted to tell a story from the point of view of a girl. Respectable women, even in late 1890s colonial Malaya, still had fairly restrictive lives. I was captivated with the idea of parallel worlds. You see it in the world of the living vs. the elaborate Chinese afterlife, where there are ghostly mansions made of burned paper offerings, and also in the way that the main character Li Lan develops as she moves from being alive to being partially dead herself. Despite the misery of the second situation, I think it's interesting that she's far freer wandering around in the spirit world than she ever is in the real world.

How do you feel your lead character, Li Lan, conforms to and breaks some of the expectations of her in her time?

That's a great question, because it sometimes bothers me when historical characters have completely modern sensibilities. I think it's natural that Li Lan should be concerned with the conventions and aspirations of her time. She understands very well that it's important for her to get married and not only that, but to make the best match possible. It reminds me of Jane Austen, where all the women are deeply concerned about marriage. There's no suggestion that Elizabeth Bennett desires, for example, the right to vote. She (and her mother and sisters) are focused on marrying well because it has immediate ramifications for their lives.

At the same time, Li Lan is a girl who wants to travel. She wants to visit other countries and see new sights, but she's hampered by social and financial restraints. I thought about those incredibly detailed 19th-century armchair traveler's books like Swiss Family Robinson and 20,000 Leagues Under the Sea, which were written for people who had no chance to go on such voyages. There was probably a real hunger for such experiences that couldn't be satisfied even fifty, let alone a hundred years ago. In Li Lan's case, she gets her wish but her travels turn out to be to the shadowy Chinese afterworld, in the grey border between spirits and humans. It's a terrifying place, yet full of strange beauty.

You have an amazing blog where you talk about your writing process, being a mom and wife, and all about your life as a foodie. Did research for The Ghost Bride introduce you to any new favorite foods?

Oh dear, I was forced to write large sections of the book late at night, because it was the only time that my kids weren't charging around the house. Unfortunately, it was also when I would start feeling terribly hungry. There were sections of the book that we had to remove during editing because they were just descriptions of food. Glossy fried rice. Succulent cockles dipped in chili sauce and lime juice. Ikan pari (skate) grilled in banana leaves over a smoky charcoal fire.

Since I was writing about colonial Malaya in the 1890s, I spent a lot of time thinking about the sort of food that I'd eaten during my childhood. Women in those days spent most of their time in the kitchen, probably because they led these constrained lives. I remember flipping through my mum's old cookbooks and finding a recipe for duck that involved deboning it, stuffing it and doing all sorts of complicated things. When I got to the bit that said "the next day, take the duck…" I gave up.

That's not to say that I don't want to eat that sort of time-consuming cuisine. I do! Just as much as I want to eat noodles that have been flash-fried in a cast-iron wok, preferably over a roaring gas inferno. But since I couldn't get hold of any of this at 11 p.m. at night, I ate a lot of dark chocolate and Manchego cheese instead.

[We think this post about previous Discover picks Ghana Must Go and A Teaspoon of Earth and Sea from Yangsze Choo's blog is terrific.]

You've mentioned in other interviews that you were researching another book when you became inspired to write this one. Are you back to work on a second novel and if so, does it also delve into Chinese culture?

I'm currently at work on a second novel about sacred tigers, although I'm a bit stumped right now. That's the problem with writing by the seat of your pants. It's either very good going, or it's horrible. This book is also set in colonial Malaya, but in the 1920s instead. I think I still have a lot of Chinese and Southeast Asian stories to tell, as this part of the world is very dear to me and I feel that I can write authentically about it.

Who have you discovered lately?

I just finished a book by Yoko Ogawa, called Revenge: Eleven Dark Tales. They are beautifully creepy short stories, in which the protagonist in one tale becomes a bystander in another so that all the stories are linked in the end. It's the kind of book that makes you want to rush out and write your own take on, for example, carrots that look like human hands.

Another book that I love is Viktor Pelevin's The Sacred Book of the Werewolf, which (contrary to appearances) is not a zombie thriller. Instead, it's a bitingly funny satire about the Russian oligarchy and the oil industry. I keep telling people it's brilliant, combining elements of Russian folktales with Wong Kar Wai's movies, but the words "satire" and "oligarchy" seem to put them off for some reason!
Cheers, Miwa
---

Miwa Messer is the Director of the Barnes & Noble Discover Great New Writers program, which was established in 1990 to highlight works of exceptional literary quality that might otherwise be overlooked in a crowded book marketplace. Titles chosen for the program are handpicked by a select group of our booksellers four times a year. Click here for submission guidelines.