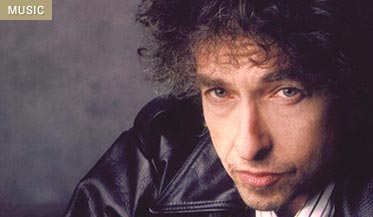 You can find a map of the transformation Bob Dylan has wrought in American music over the last 20 years — a transformation in the way he has made it, certainly, but perhaps even more deeply in the way that many people now hear it — in the first two tracks of the third CD of Tell Tale Signs: a disc available only in the cruelly priced "Expanded Deluxe Edition." I don't mean to one-up; what is here is where it's been placed, and as one person associated with the production put it, "Ultimately it will all be available to everyone; people will just download it." Time will tell.

But here is Bob Dylan in Chicago in 1992, taking up the folk song "Duncan and Brady," just months before moving on to the stripped-down solo investigations of American commonplace songs — from black, white, and shared traditions — that first came to light later that year with his Good as I Been to You and continued in 1993 with World Gone Wrong. For those records, Dylan worked in his own home studio, without other musicians, without a producer, with songs that, in his repertoire, often predated his first album, the 1962 Bob Dylan; he found more of a voice in the melodies, twisted and jumped on his own acoustic guitar, than in the words. But in Chicago, with the concept not yet clear — with the songs yet to tell him how they wanted to be played — Dylan has given himself over to the producer David Bromberg, a musician who, as is said of a pompous rabbi in Philip Roth's The Plot Against America, "knows everything. Too bad he doesn't know anything else."

One of the things Bromberg doesn't know is what to leave out. Here is a tale about a gunman and a bartender that has never, in its more than a century of changing hands, cried out to be done up with bass, drums, three guitars, two fiddle parts, two mandolin parts, keyboards, trumpet, saxophone, clarinet, and trombone. The song doesn't know what to do with all this baggage, and Dylan doesn't either. The mess of the thing ultimately goes back to his own uncertainty about what his music is and what it is for; he was coming out of a long period of contrived writing, fallow orchestration, more than ten years of desperate flailing for a song that not only could be put on the market but demanded to be brought into the world. So he tries gamely to keep up with the big band's hurried clackety-clack, as if to say, moment to moment, this will all be over in three minutes, two minutes, one minute…. There's no soul in the performance, and no body.

The old songs that sprung to such cryptic life on Good as I Been to You and World Gone Wrong took a new form in 1997 with Time Out of Mind. There the likes of Blind Willie McTell's "Ragged and Dirty" and the mists-of-time British ballad "Love Henry" shed their skins and grew new ones, turning into "Dirt Road Blues," "Standing in the Doorway," "Not Dark Yet," "Tryin' to Get to Heaven," "Cold Irons Bound." Onstage the songs changed shape yet again, as if they were less made than found, daring their putative composer to keep up with them. On numerous real bootlegs — as opposed to Dylan's own official bootlegs — it was plain that "Cold Irons Bound" grew faster and bigger than anything else, but I have never heard anything like the Tell Tale Signs performance, from the Bonnaroo Festival in Manchester, Tennessee, in 2004.

The band is Tony Garnier, bass, Larry Campbell, guitar, Stu Kimble, guitar, George Recile, drums. Over many years on Dylan's stages, Garnier and Campbell have probably accompanied him with a deeper affinity than anyone else, and the result here is that Dylan takes the song with such command it feels as if he's playing every instrument, not merely his own piano and harmonica. How could other hands know what to do? It's all moving so fast, with such coursing strength, the rhythm its own flood, cutting its own banks out of the melody, the singer's out-of-the-ground voice all but laughing at its own power: after all, it was he who blew up the dam in the first place. The piece has the rockabilly flash of Elvis Presley's "Mystery Train," the defiant syncopation of Howlin' Wolf's "How Many More Years," the sly menace of Muddy Waters's "Mannish Boy," the all-hell-is-breaking-loose thrill of Rod Stewart's "Every Picture Tells a Story." At its highest pitch, the singer seems to be trying to top himself, growl against growl, grin against grin, oath against oath, reveling in some otherworldly two-man standup comedy routine that's only a few steps away from the circular firing squad at the end of Reservoir Dogs. It moves past so quickly that the music seems to fragment, and you catch echoes of voices from much farther back, from before anyone in this song was born, whispering that they knew the song before the singer did, that they always knew it sounded just like this, and that they're in on the joke: that when you're "cold irons bound" you're on the way to your deathbed.

Both the standard and expanded versions of Tell Tale Signs include unusually illuminating, engaging liner notes by Larry "Ratso" Sloman, who wrote a book about Dylan's 1975 Rolling Thunder tour and has happily survived turning up dead in Kinky Friedman's 1993 mystery Elvis, Jesus & Coca-Cola; the deluxe edition packages Sloman's commentary in an illustrated book and adds an art book collecting sleeves from Dylan singles from Columbia outlets far and wide to go with the extra third disc. And though it emerges far more completely across three CDs, the story told is of a piece.

The music Bob Dylan has made since 1992 has been based in a hunch that there is a body of American song, or an American ethos of expression, that is a constant. It's a scattered form that in words and metaphors, riffs and moans, hesitations and shouts, can always be rediscovered, and can rediscover and renew whoever remembers it, as if one can not only speak but listen in tongues. Collecting mostly alternate studio or live versions of material already released — "Ring Them Bells" and "Most of the Time" from the otherwise cramped 1989 Oh Mercy, "Ain't Talkin'" from the 2006 Modern Times; soundtrack compositions ("Huck's Tune" from Lucky You, the endless "'Cross the Green Mountains" from the misbegotten Civil War epic Gods and Generals); and abandoned songs now heard for the first time ("Marchin' to the City," "Dreamin' of You," "Red River Shore," all left out of Time Out of Mind) — the 27 tracks of the standard Tell Tale Signs and the 12 additional numbers in the expanded package trace Bob Dylan's exploration of this territory. There are blind alleys (the programmatic "Dignity," the ready-made protest song "Everything Is Broken") and alleys made for muggings, such as "Tryin' to Get to You," its initial Carter Family shape dissolved onstage in London in 2000 as it's sung by someone who looks like Bob Dylan but sounds exactly like the sort of '50s crooner the critic Nik Cohn once described as "white, sleek, nicely spoken, and phony to your toenails" — and it's a tour de force. There are variations that don't expand the possibilities of a song but wear it out (the three Time Out of Mind versions of "Mississippi," which was rerecorded for the 2001 "Love and Theft" ). At first Tell Tale Signs can seem like mere back pages, a pile of footnotes and appendices. But as a fan's privately pressed compendium of Dylan's 31 1993 live performances of the folk song "Jim Jones" (from Good as I Been to You) makes plain — as over nine months the song's melody swallows its words, its words spur a new force in its rhythm, and finally the rhythm turns toward abstraction, and the song's narrator, a prisoner sent from London to the hellhole of 19th-century Australia, becomes a figment of his own imagination, his own landlocked Flying Dutchman) — there is no end to what, when the spirit is right, Dylan can do with a song. A performance that at first seems flat reveals layers; a singer missing the cues in his own words turns out to be after something else entirely. The music here won't be heard the first time around.

For just that reason, there is little point in saying that "Red River Shore," despite the tragedy of its story, is as open as the Plains, the only limit to what it can say a matter whether you can see from one end of its Kansas to the other. After a few listenings, it might seem too sweet, not the tragedy it means to be at all. As you listen it might be replaced at the top of this set's chart by "Most of the Time," a song so carefully composed you can imagine that had Dean Martin or Fred Astaire had the chance to record it their versions would have been better than Dylan's — and as Dylan performs it, solo on the first disc, with quiet, retreating accompaniment on the third, can make you lose track of time, to the point that the fact that Tell Tale Signs has dropped its clues over nearly two decades need mean nothing at all.