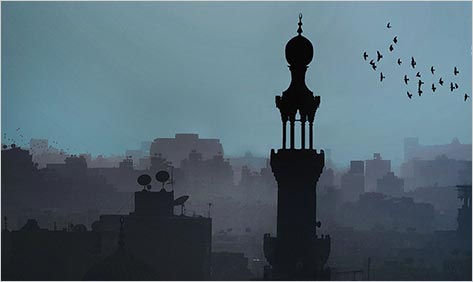 Olen Steinhauer has published nine novels since 2003 with not a dud among them. The first five make up a superbly grim series set from 1948 to the end of the (first) Cold War in a fictional Eastern Bloc country. The next three constitute a complex sequence that follows the international operations and missteps of a tiny, ultra-secret CIA unit. Now comes The Cairo Affair, as intricate a novel of espionage and multi-pronged betrayal as ever exercised a reader's powers of analysis. Here the action takes place chiefly in the Middle East during the Arab Spring of 2011, with tentacles of plot reaching back twenty years to the commission of a sordid and violent act during the Bosnian War.

If the novel has a main character, it is Sophie Kohl, wife — and almost immediately widow — of Emmett Kohl, an American deputy consul in Hungary in 2011. She is having lunch in a Budapest restaurant with her husband when he tells her that he has learned of the affair she had back in Cairo, where they had been stationed two years previously. His source, says Emmett, is none other than the man she carried on with, Stan Bertolli. He is a CIA agent who, Emmett also reveals, had accused him, Emmett, of being a spy at the time. The Kohls have hardly had time to begin discussing these unfortunate matters when a Russian Mafia–style goon steps up to their table and shoots Emmett, clearly carrying out a hit. But for whom? And why? Sophie's conscience suggests that the answer lies in back in Cairo, and even further back in Croatia.

Sophie's sense of guilt meshes with her longing for action, and she eludes American embassy staff and secretly returns to Cairo. There she finds a Middle East tumultuous with protest and violence. It is the first week of March, 2011: Tunisia's government has been overthrown; Egypt has boiled up; Hosni Mubarak has resigned, and the country is being governed by the military. But it is the situation in Libya, where the government of Muammar Gaddafi looks increasingly precarious, that is of particular interest — to Sophie and to an increasing number of other players in this beautifully complicated tale.

Chief among those whose fates we follow is Jibril Aziz, a Libyan exile whose father was killed by Gaddafi. Now an American citizen working for the CIA, Aziz is intent on bringing an end to Gaddafi's criminal regime. A couple of years previously he had devised a plan for just this, one that would have involved the assistance of the U.S., which in turn had nixed it. But where once he had hoped for U.S. involvement, Aziz is now afraid that the plan has been activated and the Americans are bent on co-opting the present and powerful domestic movement. More to the point, as Sophie knows, Aziz had met with Emmett shortly before the latter was murdered. Why? She means to find out.

The ensuing tale pays the highest compliment to the reader's intelligence and its unfolding, dramatic and terrifying, proceeds by interleaving and rehashing the same events from the vantage points of a number of characters. In addition to Sophie's view, which is in part shaped by misinformation, there are those of Stan, her old lover; of John Calhoun, a CIA contractor; and of Omar Halawi, a member of the Egyptian Central Security Forces, who, as RAINMAN, is also a CIA source. Each perspective offers only a partial view, many of them complete misapprehensions. Steinhauer deploys the tactic with remarkable facility, wrong-footing his characters and readers with diabolical skill. But as he does, he also weaves in the true thread, its strands coming together at various junctures to produce sharp thrills of comprehension, usually of one or another act of betrayal.

Betrayal in all of its variety lies at the twisted heart of The Cairo Affair, and the character who embodies it most is Sophie, a far more complicated woman than one is accustomed to meet in the pages of an espionage thriller. She is torn between her identity as a well-educated American liberal with all the right ideas and a more untrammeled self, one with a craving for authentic experience. Her appetite for a realer, rawer, less civilized encounter with existence had first shown itself twenty years ago outside Vukovar in Croatia in the company of a chillingly seductive Serb, Zora Balašević. Now confronted with the possible consequences of her actions of that time, Sophie is appalled by how lethally real things can get.

Like all of Steinhauer's novels, The Cairo Affair is a sophisticated engagement with international tensions and power games as well as with the dysfunctional undercover organizations whose members are up to a good deal more than simply protecting and furthering national interests. Portrayed by Steinhauer, it is an arena where no one can see the whole picture, one in which paranoia has been elevated to a branch of epistemology. As one of his characters worriedly reflects, "It didn't matter how much he knew — what mattered was how much other people thought he knew." The deadly import of this truth infuses every page of this marvelous novel.