Don Winslow is one of those shape-shifter novelists; now light, now dark. Funny one minute, terrifying the next, his fiction can swivel in an instant from California stoner dudes trading wisecracks to narco-gangsters revving up chainsaws for a beheading. And you follow, snared from the first sentence, hearing echoes of Elmore Leonard in Dawn Patrol, for instance, or The Gentlemen's Hour, and even stronger echoes of Hunter S. Thompson in the sublimely juiced-up, deadpan style of Savages and its prequel, The Kings of Cool.
Those tight black comedies evoke a shimmering California, wild and sleazy and home to quasi-innocent misfits — dope dealers, surfers — who quickly come up against real adults. Bad adults. But even Savages seems like light opera next to Winslow's 2005 thriller, The Power of the Dog, a Wagernian epic of murder and vengeance that Winslow revives in his latest novel, The Cartel.
The business here is, of course, the drug business: sophisticated, thriving, and an integral part of the U.S. and global economy. As the Mexican cartel's boss, Adan Barrera, observes, "They had to bail out General Motors, not us." A central character in The Power of the Dog, Barrera is now in solitary confinement in a San Diego prison, thanks to his nemesis, DEA agent Art Keller. And Keller, following his revenge-fueled manhunt in the previous novel, has retreated to his own version of solitary, a monastery in New Mexico where he tends bees. Until his former DEA boss shows up one day with the news that Barrera has both turned informer and put a $2 million bounty on Keller's head. The lawman-turned-monk "knows it won't end until one or both of them is dead," and the stage is set for a final showdown.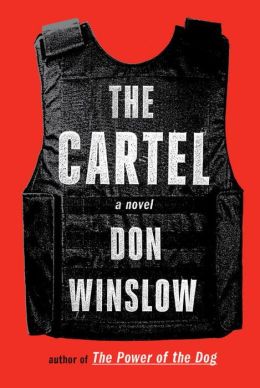 By the time that duel occurs, almost a decade and 600-plus pages later, many more corpses will have accumulated in a narco civil war that Winslow presents chiefly through the glazed eyes of its veterans. "Years ago the machine-gunning of nineteen men, women, and children was the worst atrocity he thought he'd see, now he knows better," Keller reflects of his thirty-year career. The reader, too, may feel occasionally bludgeoned, not only by the novel's orgiastic violence but also by the details of shifting alliances and endemic corruption that make The Cartel as much a work of meticulous journalism as artful fiction. But through the blood haze and the political fog, Winslow allows us to see — and even to care about — his skillfully drawn characters: Adan Barrera's lover, for example, the formidable Magda Beltran, who builds her own drug empire; Chuy, the horrifying child soldier; Pablo Mora, the Juárez journalist; and Crazy Eddie Ruiz, " . . . twenty-six and a freaking millionaire," who might have stepped out of Savages.
In this fetid world, vile Eddie is the next-best thing to a breath of fresh air. And Keller is the closest thing to a hero. " 'You're a lonely, bitter man, Art,' Taylor says, 'The only guy I have driven, angry, and good enough to do this.' " That is, finally, to exterminate one bloodthirsty gang, the Zetas, by joining forces with another. The other. As mutilated corpses pile up, Keller admits to himself:
It's what I do now.
Fourteen Zetas skinned alive.
And I provided the intelligence that located at least nine of them.
He buys "dinner" at 7-Eleven before going back to his room.
The bleak confession repels sympathy. Save that, Winslow seems to say, for the powerless. And for the real fighters: "Journalists murdered or 'disappeared' in Mexico," to whom Winslow dedicates his novel. (The list of names, almost two pages long, is more chilling than any of the horrors that follow.) But this novel of the South also faces north. "The so-called Mexican drug problem isn't the Mexican drug problem," Keller knows, "It's the American drug problem." And Adan Barrera later echoes this, asking, "Do you think anyone is serious about the so-called war on drugs? . . . A few cops on the street, perhaps — some low-to-middle crusaders like yourself, maybe — but at the top levels?  Government and business?" As one of Winslow's stoner guys might reply, "Yeah, no."
In this sardonic yet passionate thriller, it is hardly surprising that the most critical showdown is not the predictable one between Keller and Barrera but the bloodless one between Keller and a few Washington, D.C. flunkies who care only about protecting an imminent billion-dollar arms-and-training "initiative" with Mexico.
Keller gets it — in three days the Mérida Initiative becomes law . . .
The White House will be happy . . .
The Mexicans will be happy . . .
The arms manufacturers will be happy . . .
Adan Barrera will be happy . . .
And Keller? " I don't have a plan," he tells Crazy Eddie. "Just live, I guess." Well, maybe.