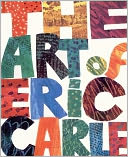 The author-illustrator Eric Carle turns eighty-two today. Carle was born in Syracuse, New York, and spent six happy years there; then he accompanied his immigrant parents on their return to Germany. Carle has spoken often about how these two experiences stand as formative "dabs of color" in his development as an artist and person. In Artist to Artist: 23 Major Illustrators Talk to Children About Their Art (2007), Carle says that his aim in art is "to entertain, and sometimes to enlighten, the child who still lives inside me." In his introduction to The Art of Eric Carle,Carle expands and clarifies his child-as-father-to-the-artist theme. He recalls Syracuse as the place he got his first lessons in the bugs and beetles that lived in trees and under rocks, and got his first exposure to art: "I remember kindergarten there. I remember a large, sun-filled room with large sheets of paper, fat brushes, and colorful paints. I remember that I went to school a happy little boy." Then came the years of school in Germany:
I remember a dark room with narrow windows. And I remember a cruel teacher who introduced me to a time-honored tradition: corporal punishment with a thin and relentless bamboo stick. A punishment that stopped my enthusiasm for learning for the next ten years, until I went to art school.… Could it be that my cheerful caterpillars, ladybugs, roosters and spiders have been created to paint over, or even scratch out, those dabs of color which have gone wrong so long ago?
Adding the trauma of conscription into the German army during WWII—he was forced to dig trenches on the front lines at the age of fifteen—Carle says he couldn't wait to return to America, which he did in 1952, arriving with only $40 in his pocket.
---
Daybook is contributed by Steve King, who teaches in the English Department of Memorial University in St. John's, Newfoundland. His literary daybook began as a radio series syndicated nationally in Canada. He can be found online at todayinliterature.com.