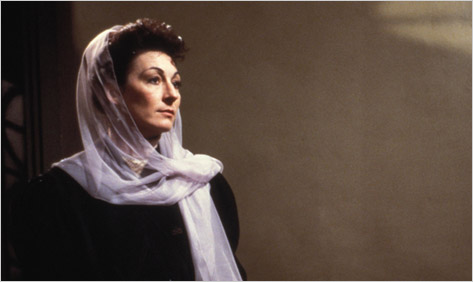 Let it not be said that John Huston didn't go out with a party. The famed director's final film so thoroughly revels in James Joyce's much-heralded tale that it's something of an understatement to call this understated film faithful to the original. As in the story, Aunt Katie dutifully stands to turn the page as Mary Jane plays her proficient piano piece. During the goose dinner, the hot, floury potatoes are indeed separately served upon passed plates. Freddy Malins even beats time with his pudding fork as the three seated hosts are saluted with song. Huston knew not to chop up a brill source.

But additional intrigue arises with the minor embellishments. A new character named Mr. Grace delivers the anonymous poem "Donal Og," translated by Lady Gregory, abandoning his paper early in recital to show his cultural commitment to Ireland, but the moment also foreshadows Gretta Conroy's melancholy recall at film's end. A young, pre-Star Trek Colm Meaney appears as Mr. Bergin, a character protracted from a mere name to a quietly wisecracking guest overhandled by the diligent hosts. And in staging Aunt Julia's regrettable rendition of "Arrayed for the Bridal," Huston takes an interesting cue from Joyce's descriptive separation of face and voice, pulling in close on Aunt Julia's visage with his camera, only to cut to a series of static shots within the house.

The new transfer permits us to see Huston's vision: the Morkan house's two commodious floors, the emphasis on amber lights near the frame's top edge, the silhouetted dancers — blurry in previous transfers — circling outside, the many deep focus shots featuring doorways revealing an array of guests, and the party's intimate festivities captured in pleasant browns, reds, and greens. It's a mild yet quietly touching finish to Huston's long career.