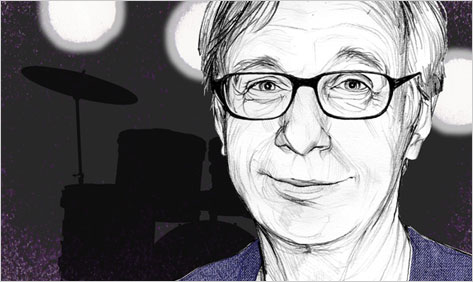 To read Robert Christgau's essay on thisyear's Dean's List picks, click here.
Albums

1.The Roots: How I Got Over (DefJam)
2.Elizabeth Cook: Welder (31 Tigers)
3.M.I.A: Maya (Deluxe Edition) (Interscope)
4.Tom Zé: Estudando a Bossa: Nordeste Plaza (Luaka Bop)
5.Rachid Taha: Bonjour (KnittingFactory)
6.Johnny Cash: American VI: Ain't No Grave (American)
7.Kanye West: My Beautiful Dark TwistedFantasy (Roc-a-Fella)
8. Tabu Ley Rochereau: The Voice of Lightness Vol. 2: CongoClassics 1977-1993 (SternsAfrica)
9.Peter Stampfel: Dook of the Beatniks(Piety Street Files & Archaic Media '09)
10.Vampire Weekend: Contra (XL)
11.The Corin Tucker Band: 1,000 Years (KillRock Stars)
12.Nicki Minaj: Pink Friday (YoungMoney/Cash Money)
13.Girl Talk: All Day (Illegal Artdownload)
14. African Pearls: Congo: Pont Sur le Congo (Syllart)
15.No Age: Everything in Between (SubPop)
16.Care Bears on Fire: Girls Like It Loud(S-Curve download)
17.Robyn: Body Talk (Konochiwa/Cherrytree/Interscope)
18.Lil Wayne: No Ceilings (free download'09)
19.Allo Darlin': Allo Darlin' (FortunaPop!)
20.D.O. Misiani and Shirati Jazz: The Kingof History (Sterns Africa)
21.Lady Gaga: The Fame Monster (Streamline/Konlive/Cherrytree/Interscope'09)
22.Systema Solar: Systema Solar (Chusma)
23.The Arcade Fire: The Suburbs (Merge)
24.The Rough Guide to Desert Blues(World Music Network)
25.Macy Gray: The Sellout (Concord)
26.Deerhunter: Halcyon Digest (4AD)
27.Love Is All: Two Thousand and TenInjuries (Polyvinyl)
28.Jeffrey Lewis & the Junkyard: 'Em AreI (RoughTrade '09)
29.Dessa: A Badly Broken Code (Doomtree)
30.Shad: TSOL (BlackBox/Decon)
31.Pierre de Gaillande: Bad Reputation (Barbès)
32.Flying Lotus: Cosmogramma (Warp)
33.MC Paul Barman: Thought Balloon MushroomCloud (Househusband download '09)
34.Tokyo Police Club: Champ (Mom+ Pop)
35.Titus Andronicus: The Monitor (XL)
36.The Whitefield Brothers: Earthology (Now-Again)
37.Gabriel Johnson: Fra_ctured(Electrofone)
38.Surfer Blood: Astro Coast (Kanine)
39.LCD Soundsystem: This Is Happening (DFA/Virgin)
40.Rokia Traoré: Tchamantché (Nonesuch'09)
41.Das Racist: Sit Down, Man (Mad Decentdownload)
42.Best Coast: Crazy for You (MexicanSummer)
43.Cornershop: Judy Sucks a Lemon forBreakfast (AmplePlay)
44.El DeBarge: Second Chance (Geffen)
45.Die Antwoord: $0$ (Cherrytree/Interscope)
46.The Pernice Brothers: Goodbye, Killer (Ashmont)
47.Quasi: American Gong (KillRock Stars)
48.The National: High Violet (4AD)
49.Scissor Sisters: Night Work (Downtown/Polydor)
50.David Bazan: Curse Your Branches (Barsuk'09)
51.Now That's What I Call Club Hits 2 (EMI)
52.Nicki Minaj: Beam Me Up Scotty(Trapaholics download '09)
53.Nas & Damian "JR. Gong" Marley: Distant Relatives (DefJam)
54.Kinito Méndez: Éxitos de Kinito Méndez(J & N '05)
55.Shangaan Electro: New Wave DanceMusic From South Africa (HonestJons)
56.Ricardo Lemvo & Makina Loca: Isabela(Mopiato Music '07)
57.Diplo: Diplo Presents Dubstep: Blow YourHead (Downtown/MadDecent)
58.Dan le Sac vs Scroobius Pip: The Logic ofChance (Sunday Best)
59.Balkan Beat Box: Blue Eyed Black Boy (NatGeo Music)
60.Eskmo: Eskmo (NinjaTune)
61.Sleigh Bells: Treats (Mom+ Pop)
62.Das Racist: Shut Up, Dude (Mishkadownload)
63.Eminem: Recovery (Aftermath/Interscope)
64.Tricky: Mixed Race (Domino)
65. Everybody Was in theFrench Resistance . . . Now!: "Fixing the Charts": Volume One (CookingVinyl)
66. Loretta Lynn and Friends: Coal Miner's Daughter: A Tribute to LorettaLynn (Columbia)
67.Big Boi: Sir Lucious Left Foot. . . The Son of Chico Dusty (DefJam)
68.Youssou N'Dour: I Bring What I Love (Nonesuch)
69. Beatles Beginnings: Quarrymen One: Skiffle-Country-Western (Rhythmand Blues '09)
70.Of Montreal: False Priest (Polyvinyl)
71.Taylor Swift: Speak Now (BigMachine)
72.Ricardo Lemvo and Makina Loca: Retrospectiva(Mopiato Music '09)
73.MC Esoteric: Saving Seamus Ryan (FlyCasual '09)
74.Hole: Nobody's Daughter (Mercury)
75.Les Savy Fav: Root for Ruin (Frenchkiss)
76.Old 97's: The Grand Theatre Volume One (NewWest)
77.Spoon: Transference (Merge)
78.Standard Fare: The Noyelle Beat (Bar/None)
79.Konono No. 1: Assume Crash Position (CrammedDiscs)
80.The Bundles: The Bundles (K)
81.The Mountain Goats: The Life of the Worldto Come(4AD '09)
82.Boban i Marko Markovic Orkestar: Devla:Blown Away to Dancefloor Heaven (Piranha)
Singles
1. Robyn: "Don't F***ingTell Me What to Do" (Konochiwa/Cherrytree/Interscope)
2. Elizabeth Cook: "ElCamino" (31 Tigers)
3. Die Antwoord: "Enterthe Ninja" (Cherrytree/Interscope)
4. Scissor Sisters:"We're Running Out" (Downtown/Polydor)
5. Jason Derulo: "Ridin'Solo (Ian Nieman Club Mix)" (Warner Bros.)
6. Far East Movement:"Like a G6″ (Cherrytree/Interscope)
7. Robyn: "Dancing on MyOwn" (Konochiwa/Cherrytree/Interscope)
8. Afrikan Boy:"Lidl" (Out Here)
9. LCD Soundsystem:"Drunk Girls" (DFA/Virgin)
10. Lady Gaga: "BadRomance" (Streamline/Konlive/Cherrytree/Interscope)
11. The Arcade Fire:"Sprawl II (Mountains Beyond Mountains)" (Merge)
12. Das Racist:"Combination Pizza Hut and Taco Bell" (Mishka download)
13. Katy Perry: "TeenageDream" (Capitol)
14. Das Racist: "FakePatois" (Mishka download)
15. Vampire Weekend:"Horchata" (XL)
16. Taio Cruz:"Dynamite" (Mercury)
17. Jerry Lee Lewis:"Mean Old Man" (Verve)
18. Shakira: "Waka Waka(This Time for Africa)" (Epic)
19. Major Lazer: "Soundof Siren" (Downtown)
20. Ben Folds/Nick Hornby:"Levi Johnson's Blues" (Nonesuch)
To read Robert Christgau's essay on thisyear's Dean's List picks, click here.
Robert Christgau's reviews of these albums can already be found orsoon will be at his website, robertchristgau.com, or at his Expert Witness blogat MSN Music.